Threat and opportunity
Threat and opportunity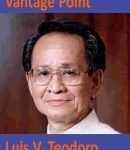 By Luis V. Teodoro
Vice-President Maria Leonor "Leni" Robredo has reiterated former Supreme Court Associate Justice Antonio Carpio's warning during the March 18 launch of the 1Sambayan coalition that unless "the opposition" fields only one candidate for President in 2022, the results of those elections are likely to replicate what happened in 2016.
Although one of the least qualified among five candidates, and without ever having been previously elected to a national post, Davao City Mayor Rodrigo Duterte won the presidency then with some 16 million votes, or about 33% of the total, with the remaining 67% being divided among his four rivals.
Despite the depths of corruption, incompetence, lawlessness and brutality into which Philippine governance has since fallen, through various means fair and foul, Mr. Duterte and company, say the public opinion polls, have managed to retain substantial support among the population.