Nonoy Espina: Journalist, patriot, family man
Nonoy Espina: Journalist, patriot, family man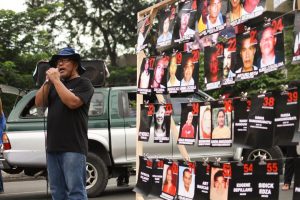 By Inday Espina Varona
(Facebook post)
Paalam, Nonoy Espina. Till we meet again.
The whole family — wife, Leny Rojo Espina, his children Mayumi Liwayway Rojo Espina and Daki Ojor Espina, his siblings, nieces and nephews and grand nieces and grand nephews — wish to tell relatives and friends, and colleagues, that Nonoy (Jose Jaime Llavore Espina) passed on peacefully, quietly surrounded by family tonight, at 9:20
Nonoy, a veteran journalist and fierce advocate of freedoms and human rights, was 59.
He had just turned over chairmanship of the National Union of Journalists of the Philippines earlier in the year.
We are grateful that Nonoy survived a severe infection of COVID19 and was able to return to the bosom of the family. His death was due to liver cancer.
A few days ago, Nonoy was able to enjoy sitting in front of the organ, to hear family make some music. That music was something he looked forward to.
Nonoy took up humanities in UP Visayas-Iloilo, where he was a member of the Silak fraternity.
A man of many talents, he drew, he danced, he composed, played the piano and sang, mostly jazz and blues, in a distinct gravelly voice.
He wore many hats but he was first and foremost a journalist.
Nonoy preferred to mostly practice his journalism in Negros Occidental, his home province.
He was a member of the alternative media organization, COBRA-ANS, and an editor of the local Courier.
He was also a correspondent of the defunct Today Newspaper and worked for a time in the Lifestyle magazine of The Manila Standard. He became an editor of the online news outfits Inquirer.net and Interaksyon.
Nonoy also helped colleagues deal with the traumas of the profession. He fought hard for press freedom but always liked to stress its natural link to all freedoms for all citizens.
Like many journalists, he was materially poor. But in his devotion to the profession and our people he was, as Danny Fabella sang, hindi pangkaraniwang tao.
To his last breath, he waved that banner. Patriot, journalist, loving husband, father, and brother, you will not be forgotten.
**Because Bacolod is under GCQ, there will be no wake. We will announce details for memorials soon.