'Not your ordinary cookbook' | Stories, recipes of women amid lockdown launched
'Not your ordinary cookbook' | Stories, recipes of women amid lockdown launched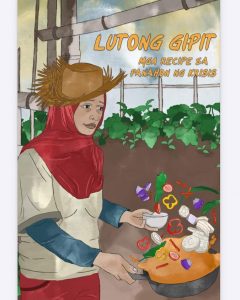 By AMALYN ANACIO
Bulatlat.com
MANILA – A group of women farmers launched a cookbook that contains stories and recipes in the time of a militarist lockdown and insufficient aid from the government.
"These are also stories of the hardship they faced and continue to face during the lockdown; farmers that are going bankrupt because they cannot sell their crops, families going hungry and some can only eat twice a day, and mothers who find it difficult to feed their children due to the economic crisis," Camille Rosas of Rural Women's Advocate (RUWA) said.
Women farmers group Amihan, in partnership with RUWA and Gantala Press, launched the cookbook titled "Lutong Gipit: Mga Recipe sa Panahon ng Krisis," describing it as "not an ordinary recipe book."
The idea behind the book came following the lack of financial aid being provided by the government, and to raise awareness for those experiencing hunger amid the pandemic, the group said.
Common ingredients found in the cookbook are garlic, onion, and vegetables that one can either buy at local markets or in one's backyard.