Rights group urges Tagum court to junk murder raps against 6 rights defenders
Rights group urges Tagum court to junk murder raps against 6 rights defenders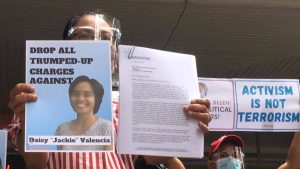 In his reinvestigation report dated May 24, Prosecution Attorney James Noel V. Morente stated, "After a careful perusal of the records of this case, this office is constrained to dismiss the instant complaint for lack of probable cause against the aforementioned accused-movants."
By ANNE MARXZE D. UMIL
Bulatlat.com
MANILA – Human rights group Karapatan urged a local Tagum court to dismiss murder charges against six human rights workers following a prosecutor's report showing lack of evidence against the accused.
In his reinvestigation report dated May 24, Prosecution Attorney James Noel V. Morente stated, "After a careful perusal of the records of this case, this office is constrained to dismiss the instant complaint for lack of probable cause against the aforementioned accused-movants."
The charges pertain to the alleged murder of Garito Tiklonay Malibato, a member of Karadyawan, an organization of indigenous peoples in Kapalong, Davao del Norte on March 22, 2018. Police Major Ruth Dizon, chief of the Kapalong Muncipal Police Station, filed the complaint two years after the incident.