Veteran journalist and media rights advocate Nonoy Espina dies
Veteran journalist and media rights advocate Nonoy Espina dies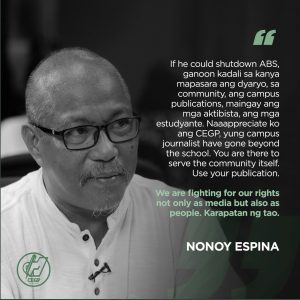 July 7, 2021
'He was a tireless champion for the freedom of the press and the welfare of media workers,' says the National Union of Journalists of the Philippines
By Lian Buan
Veteran journalist and former chairman of the National Union of Journalists of the Philippines (NUJP) Jose Jaime "Nonoy" Espina died on Wednesday, July 7, after battling liver cancer, his family confirmed.
Espina was 59 years old, and died at their home in Bacolod.
"Nonoy passed on peacefully, quietly surrounded by family tonight, at 9:20 pm," his sister, journalist Inday Espina-Varona, said on Facebook.
Espina "survived a severe infection of COVID19 and was able to return to the bosom of the family. His death was due to liver cancer," said Varona.