Remembering President PNoy's Legacy
Remembering President PNoy's Legacy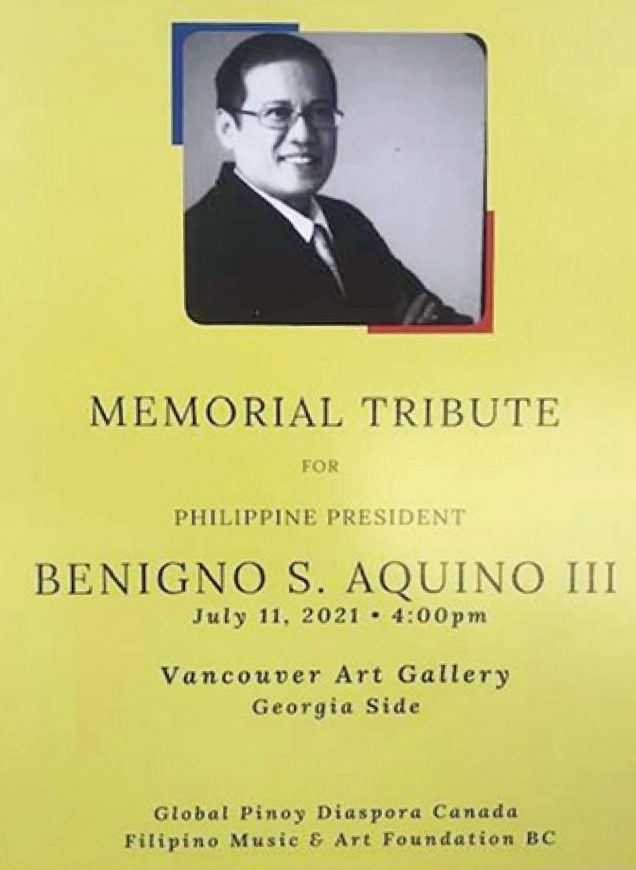 By Erie Maestro
By the steps of the Vancouver Art Gallery, Filipinos gathered to pay their final respects to Benigno Simeon Aquino III in a public memorial. Aquino, 15th President of the Philippine Republic, died quietly last June 24. PNoy, as he was affectionately called by the nation, served as President from 2010 to 2016.
Global Pinoy Diaspora Canada (GPDC) and the Filipino Music and Arts Foundation organized the July 11 memorial. Treenee Lopez, GPDC President, invited community members and groups "who believe in freedom and democracy and good governance that embodied President PNoy's administration, in stark contrast in what the country is now under Duterte." Several speakers shared how Aquino's life and death struck a chord with many Filipinos.
Mable Elmore, first MLA of Filipino descent in the BC Legislature, wrote that Aquino's invaluable legacy was giving others the "collective courage to imagine, believe in, and work for a better future." Amado Mercado III, an Atenean like Aquino, and past President of Ateneo Alumni Association of BC, spoke of Aquino's historic achievements in the economy and foreign policy. Personal stories of meeting Aquino and remembering his humility and bigness of character were shared by Anicia Miles of the Marinduque Association.
Aquino's landmark legacy was his courage to fight for Philippine territorial and maritime rights in the West Philippine Sea at the Permanent Court of Arbitration against China, and the court ruling in the Philippines' favour on July 12, 2016. GPDC Adviser Jose Lim passionately told this story and how Duterte betrayed this victory. For UBC Professor Leonora Angeles, Chair of the National Pilipino Canadian Cultural Centre (NPC3), Aquino created political stability, lowered the public debt, introduced basic social service reforms, upheld the rule of law, and professionalized the civil service.
Historic are his legacies on human rights and women's rights. Chris Sorio, Sec Gen of Migrante BC and a political prisoner under the Marcos regime, will not forget that Aquino signed into law the 2013 Human Rights Reparation and Recognition Act. This was a "victory and a tribute for the people who fought the dictatorship" and a recognition that human rights were violated during martial law. For Buena Kilala Chua of the BC Batangas Club, the passage of the Responsible Parenthood and Reproductive Health Law in 2012 made sexual and reproductive health services and rights universally accessible to Filipino women.
In arts and culture, Lenore RS Lim, international artist and President of the Filipino Music and Art Foundation, said that Aquino believed that "culture and the arts are not a luxury but a necessity, the soul of a nation." In practice, this meant the upkeep, restoration, care of National and regional museums, cultural and heritage sites, and national treasures – proofs of a vibrant national life.
Erie Maestro, 1Sambayan Canada Coordinator, raised the challenge that to remember and honour Aquino's many legacies is to act and do our share as Filipinos who believe in good governance, human rights, national sovereignty, integrity and decency. "In the 2022 elections, we are offered the chance to do that" by supporting 1Sambayan's unified opposition ticket of national candidates for a trustworthy and competent government. This is 1Sambayan's campaign for hope and the individual acts of registering now and voting in 2022 become our collective act to honour Aquino's legacy."
Artists Goldie of Retrospect and Mayo Landicho ended the tribute with their songs, followed by a special martial arts performance by Datu Shishir and Jesse Inocalla of Arnis BC.