Mga Kuwentong Pagkain
Mga Kuwentong Pagkain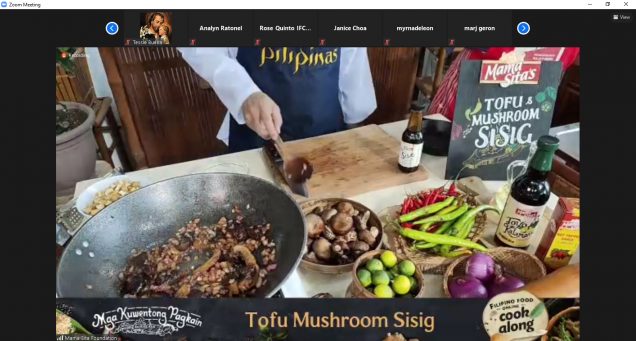 Cook-Along Explores Precolonial Cuisine
By Michelle Chermaine Ramos
The Philippine Reporter
On August 6, 2021 (Toronto), the Philippine Consulate General in Toronto and the Mama Sita Foundation in the Philippines hosted the second episode of the Mga Kuwentong Pagkain cook-along live webinars exploring the precolonial Filipinos' diet. Emcees from Canada and the Philippines were Natasha Alli, journalist, podcaster and Research Coordinator at the Culinary Tourism Alliance in Toronto, along with author/researcher and Ateneo de Manila Filipino language instructor Paolo Ven B. Paculan and his daughter Malaika Paculan, a BS Communications Technology Student at the Ateneo de Manila University.
The event attracted over a hundred attendees from kids to seniors who were looking to learn more about their culinary heritage. In celebration of Filipino language week, Paolo Paculan started off and incorporated a basic tutorial on every day phrases in Tagalog and other Filipino dialects throughout the session. Other guest speakers were Samar historian Ms. Rosario "Charo" Cabardo and Philippine Culinary Advocate and Via Mare Founder Ms. Glenda Baretto.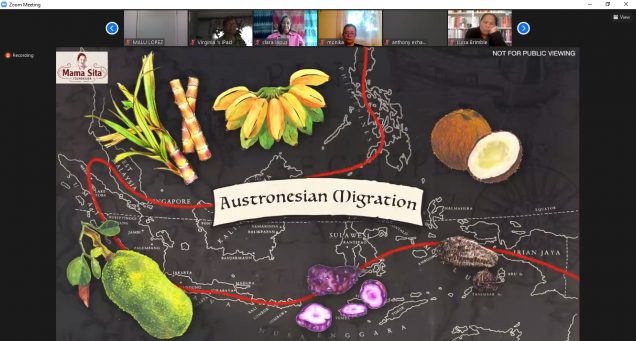 The main guest lecturer was food historian Felice Prudente Sta. Maria who lent her insight from her recently published book, "Antonio Pigafetta's Philippine Picnic," which explored the types of food precolonial Filipinos must have served when they welcomed explorer Ferdinand Magellan and his crew when they first landed in the Philippines. The information is based on the diary of an Italian member of Magellan's voyage, Antonio Pigafetta, who was one of the few men who survived the battle of Mactan and made it back to Europe with his detailed records of their encounters with the natives including the local food and words he learned in the local dialects of the different islands.
Accompanying her talk was a short animation depicting the Austronesian migration, precolonial livestock and wild game, plant food sources, and the precolonial Filipinos' first encounter with Magellan and how food played a pivotal role in their interactions. When the friendly natives found Magellan newly landed on an island tending to his sick men, they brought them food as an act of compassion and friendship reflecting how, even in those times, sharing food was the Filipino way of expressing hospitality and kindness.
(SIDENOTE: Incidentally, as covered in a review of Antonio Pigafetta's book in our June 25, 2021 issue, it is interesting to note that food also played a pivotal role in the fatal ruin of the Europeans' friendship with the natives when they abused their hospitality and started to forcibly convert the different tribes to Christianity while demanding tributes in the form of livestock. This contributed to sparking the battle of Mactan led by Chief Lapulapu. The officers who took over leadership after Magellan's death were also led to their own when Chief Humabon lured them to a banquet where they were massacred. https://philippinereporter.com/index.php/2021/06/25/the-scribe-the-slave-and-the-screwups/)
For the cook-along segment of the webinar, Mama Sita Foundation's Legacy Custodian Cecile Nepomuceno Gamad led a tutorial on how to cook a popular Visayan dish named KBL which is made of pigeon peas (kadyos), pork (baboy) and jackfruit (langka). Although we do not know for sure exactly what kind of pork soup Pigafetta saw the natives prepare, this is a good enough guess because all the ingredients were locally available in pre-Hispanic times (maybe except for onions) along with the cooking methods he witnessed and described in his diary, and the fact that they landed in the Visayas. For a vegetarian take on a popular sizzling dish, chef Andrew Faderanga demonstrated how to cook sisig substituting tofu and mushroom in place of pork used in the traditional recipe. Also, the hosts stated that a clue as to whether or not an ingredient was already local to the region prior to the Spanish and American colonizers is if a Filipino word already existed for it.
Paolo Ven B. Paculan recounted his experience preparing and eating plant based indigenous dishes and what he learned about indigenous values when it comes to food. On his outing with the Aetas, an indigenous group, he observed how they lived off the land's bounty and picked fruits off trees as they walked along the path. However, they only took what they needed and when he asked why they did not take more, they explained that "those are for the ones who will come after", demonstrating their care for their fellow men and deep respect for nature in the way they live in harmony with their environment. Their values are reflected in the way they are willing to share whatever food they have with their neighbors and even strangers as in the case of Pigafetta's account.
The hosts engaged the guests in a fun trivia contest on precolonial food followed by a presentation by Jannie Luz-Benico of Republika Restobar and Grill located at Bathurst and Wilson on how they reinvented their business during the pandemic. The Mga Kuwentong Pagkain webinar series will appeal to both Filipino and non-Filipino foodies who want to gain a deeper understanding of Filipino culture and history. Some participants cooked along in their own kitchens following the chefs' live instructions and this is a great learning and bonding opportunity for parents to help their children develop a greater appreciation of their Filipino heritage through the lens of culinary history.
To get the ingredients list and to sign up for upcoming sessions, learn more at https://www.facebook.com/MgaKuwentongPagkain/
Felice Prudente Sta. Maria's book is available at https://artbooks.ph/products/pigafettas-philippine-picnic?_pos=2&_sid=50a93b70f&_ss=r