International group urges UN body to probe Philippine's human rights situation
International group urges UN body to probe Philippine's human rights situation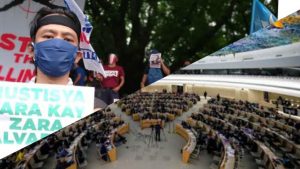 "Activists have been killed over the last year, both by the security forces and by unknown individuals. In many instances, activists were killed after being red-tagged. In virtually none of the cases has anyone been held accountable for the killings."
By ANNE MARXZE D. UMIL
Bulatlat.com
MANILA – An international rights group called on the United Nations Human Rights Council (UNHRC) to establish an investigation mechanism that would help address rights violations in the Philippines.
A newly released country research brief by CIVICUS Monitor showed that "serious civic freedoms violations continue to occur, creating a chilling effect within civil society" a year after the UNHRC adopted the resolution extending technical assistance and capacity-building to the Philippine government.
The group described the resolution as "profoundly weak" as attacks on human rights in the Philippines are unabated amid the pandemic.