Propaganda as art form
Propaganda as art form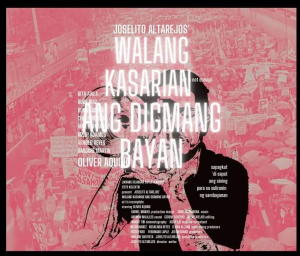 REVOLUTION KNOWS NO GENDER
By Lui Queaño
The Philippine Reporter
It was as a co-participant in multi-awarded, veteran fiction and screenplay writer, Ricky Lee's online workshop that I first heard of filmmaker, Joselito "Jay" Altarejos.  He was with Batch 22; I was a member of Batch 24. In one of his interviews,  director Jay was asked how his experience at Ricky Lee's workshop helped him as a film- maker, to which he responded that the workshop helped him not just as a writer and filmmaker, but also as a person with a big heart, that is, feeling for and trying to further understand the life stories and struggles of the poor and impoverished among our masses.
The young filmmaker from Masbate, Jay Altarejos, has worked for Philippine television, and been part of the long-running series, "Legacy," on GMA Network. He has received several awards, previously, both in the Philippines and abroad,  for his own gay-themed film works, including, The Man in the Lighthouse (Ang Lalake sa Parola), Antonio's Secret (Ang Lihim ni Antonio), Kambyo, The Game of Juan's Life (Ang Laro ng Buhay ni Juan ), Pink Halo-Halo, Unfriend, The Commitment (Kasal),  Tale of the Lost Boys, and others, all of which shown at various LGBTQ film festivals.
One of Jay Altarejos's recent works, "Revolution Knows No Gender" (Walang Kasarian ang Digmaang Bayan), although highlighting still the LGBTQ theme, particularly, their social roles and functions, takes the analysis to a higher level, as current and real conditions and issues of society are brought to the fore.  "Revolution…" tells the story of how the life of a Filipino family was changed amid the government's war on drugs.  The main protagonist, Paolo, a gay filmmaker, affected by the death of his nephew named Kian who was killed by a policeman during their Operation Tokhang, decides to join the revolutionary movement. Despite being gay, Paolo is readily accepted and is assigned tasks in the struggle for national liberation.
As Altarejos reveals in another interview, "Revolution Knows no Gender," was born when he was doing Part 2 of his film, "Kasal": "While studying the characters, especially, Paolo's, played by Oliver Aquino, I imagined him suffering an injustice because of the anti-drug war…. the entire film was born from that."
Asked why the title, Altarejos said "People's struggles know no gender and so does fighting for and with them. Sabi nga sa pelikula, "Walang pinipiling kasarian ang rebolusyon. Walang pinipiling kasarian ang baril. Every freedom loving Filipino has a place in the ongoing revolution".  Altarejos said that even the LGBTQ community has only positive reactions for his film. In fact, in the latter part, a gay couple were married in the presence of the cadres, proving how the movement opens its doors to all who, regardless of gender, have embraced the revolution as the solution to oppression and injustice.
Some have commented that the film might well appear as plain propaganda material of the movement, but Altarejos counters that propaganda, in itself, is not bad at all, but could actually, develop into or function as an art form, a genre  that serves to clarify the contradictions and flaws in the system's ideological and political line. We are, of course, also reminded, here, of similar works by great film artists, directors and writers of the past and those still with us — Lino Brocka, Behn Cervantes, Ishmael Bernal, Joel Lamangan, Marilou Diaz Abaya, and others.
The film is brave and unwavering in its exposure of the problems of inequality, oppression, injustice, discrimination, and the inadequacy and ineptness of the system as a whole, and of the people in authority, sworn to protect, especially the poor and impoverished. One scene, for instance, that we've perhaps seen often dramatized in other narratives of the urban poor, shows how the  urban poor(maralitang tagalunsod) are attacked by the state police for protecting their houses from demolition.  Asked if he will continue doing films along these narratives, Altarejos proudly quipped. "We should realize that what is political is also personal. Thus, all the issues besetting our country affect our lives, our decisions, our everyday existence. I will continue doing films that answer the question "for whom and for what?"
Without doubt, the question of "for whom" should a cultural production be offered, Altarejos like all other previous directors ahead of him had done, Brocka, Bernal, among others , he will remain with the narratives of the masses and will give them the space in his film as the "protagonists". Their stories will be the story of his film as was depicted in Walang Kasarian ang Digmaang Bayan.
Altarejos simply put the masses as the "main bida" and their struggles for social justice, the content that he hopes to further develop in his film narratives, as he hopes that other film makers follow suit, i.e., represent the issues and stories of the ordinary masses in their own film productions, "I hope we should look at our lot, our life, beyond our personal sphere. And upon recognition of our situation, we should realize that what we are doing is not enough for the problems that beset us as a nation. Kailangan nating mamulat, magpamulat, makilahok, at makibaka."
Meantime, the next film project that he has in mind to complete soon, tackles how red-tagging abruptly ends in romance, a storyline that would surely stir interests and excitement, among film buffs in the Philippines and abroad.
Walang Kasarian ang Digmaang Bayan premiered in Toronto, Canada on November 30, 2021, as part of  the Anakbayan Toronto Bonifacio event