Dexter Doria's Grand Slam for Memories of Forgetting performance
Dexter Doria's Grand Slam for Memories of Forgetting performance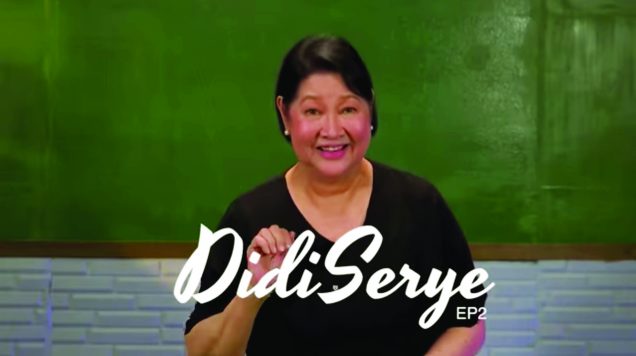 By Mila Astorga-Garcia
The Philippine Reporter
When veteran actor Dexter Doria won the two most prestigious Philippine movie industry awards – the 2021 FAMAS and 2021 Gawad Urian – for Best Supporting Actress, after being just a nominee for her outstanding performances in the last 40 years, people were just so happy for her.
Celebrations for the grand slam win had barely started when another milestone for Doria – a third award for Best Supporting Actress in the same movie – was announced, this time given by Gawad Tanglaw.
Congratulatory messages from colleagues, friends, family and fans just poured in through social media. Among the most thrilled were her high school classmates belonging to the University of the Philippines Preparatory School Class of 1965,– a closely knit group — who wanted to celebrate the multiple wins with Doria, in characteristically unique style.
Why not a movie screening of the film Memories of Forgetting, where classmates could enjoy the movie together with popcorn and drinks – just like during the high school years when friends would hie off in groups to some theatre in Cubao or elsewhere especially after Saturday physical education classes?
With Covid, however, and class members residing in various parts of the world, it had to be an online event, just as the reunions of this class during special occasions have been conducted, mainly through Zoom.
A date was quickly set for the event by the class president Eric Marquez, who was able to make arrangements with Director Jay Altarejos in Manila. The latter so graciously agreed to facilitate the movie screening, with himself, Doria and over 20 Prep 65 classmates and some family and friends in attendance.
So on January 9, 2022, 9:00 pm in Toronto , 6:00 pm in Vancouver, and January 10, 10. am in Manila, Memories of Forgetting was screened before an audience, excited not only about being able to watch the film together, but to share comments and ask questions after.
The movie was brief, but the ensuing conversations were nothing but. All in all, responses were positive and encouraging for the movie portraying the challenges of true gay love in a still conservative environment, as manifested in the constant agony of the lovers. And Doria's role and brilliant performance, though brief, became the movie's tour de force. (See the movie review of TPR writer Lui Queaño on page 22. Queaño, also theatre and film script writer, watched the movie with the class.)
"The one actor that stood out in the film was Dexter Doria as Yvonne. Her portrayal of a mother suffering from an early sign of Alzheimer's [disease] in the film brought out her acting prowess brilliantly," Queaño says in his review.
Doria, confides that she and everyone involved in the film were quite happily surprised how Yvonne's role, as portrayed, gave out such an indelible emotional presence to the viewers, that scenes she appeared in became the defining moments of the film.
Doria explains that Altarejos had just lost his mother and was still grieving during the making of the film. She said he wanted to do something to honor his mother's memory, and in so doing, his love for his mother was somehow reflected in some of the most poignant scenes in the film – as when the son danced with his mother with gentleness.
As for Doria's high school classmates, they gave her rave reviews for her acting. "Impressive." "An award-worthy performance." "Understated brilliance." "Luminous presence."
"Well done." "Bravo x 3." "Great acting." "Your performance stands out." "Loved your subdued acting."
To all these accolades, the slightly surprised but graciously appreciative Doria could only say to her critics, a heartfelt "Thank you."
Dexter Doria as Nana Didi in DDSerye
Shortly after her double win for Best Supporting Actress for 2021 in the prestigious FAMAS and Gawad Urian Awards — and before her third win for the same award in Gawad Tanglaw – Dexter Doria got an offer to play a real life volunteer role in the Leni Robredo presidential campaign.
The veteran actor said she was honoured to be offered to participate in a cause she believed in. For the good of our country, I am excited to do it, Doria told The Philippine Reporter in a brief phone interview.
Now, Doria takes on the role of Didi, in DDSerye, an online video series where she appears as a public school teacher who enlightens her students about martial law and related issues, and the importance of discerning fake vs. real news.
In her articulate, animated conversational manner, certain to make her online students awake, wide-eyed and ready to capture her interesting bits of information, she easily displays her penchant for comedy or drama to emphasize her points, with the help of appropriate visuals.
She says she wants to help correct the disinformation in social media, as when she debunks the claim of supporters of another presidential candidate that the martial law years were the golden age of the Philippines.
"I want to help this way, to help enlighten people to discern what is true or not true…I want to help our country now," Doria tells The Philippine Reporter.
In her show's introduction, she confesses that she was appalled at the pervasiveness of fake news in social media about so many things going on in the country today. That was the reason, she says, DDSerye – was created.
"This is all a volunteer effort," she says, yet she works hard with her creative team to check on facts in the script, and other tasks.
The three-time 2021 Best Supporting Actress winner of three prestigious film awards hopes people will follow her show, which has already come out with two episodes as of this writing. She encourages her viewers to send questions and comments to her which she says she will research on and deliver to them only fact-checked information.
Already Nana Didi and DD Syerye are receiving positive feedback on social media: Some posts read:
"The Philippines needs more vlogs like this. Can't wait for the next episode."
"A celebrity using her voice for good."
"Nana Didi, it's your time to shine, More to come; love it."
"Mabuhay ka, Nana Didi!"
"Salamat po for sharing your knowledge and wisdom… God bless you and your family and all of us and our whole country, the Philippines."