Sentro Rizal Toronto launches Children's Corner to mark PH Children's Week
Sentro Rizal Toronto launches Children's Corner to mark PH Children's Week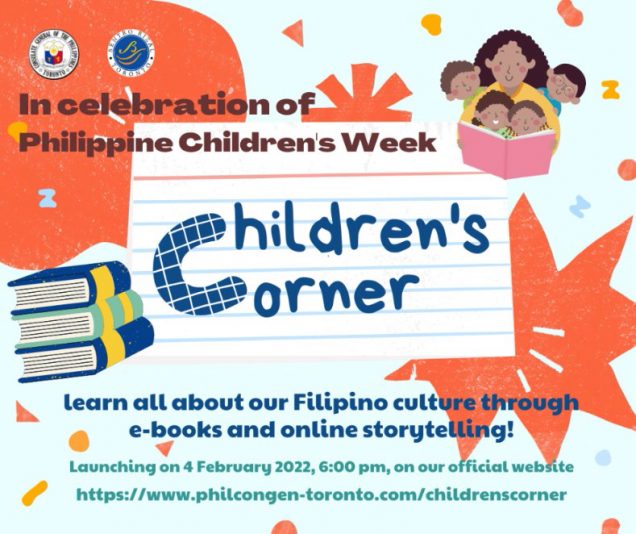 February 4 2022
TORONTO – Sentro Rizal Toronto of the Philippine Consulate General in Toronto celebrated Philippine National Children's Week with the launch of Children's Corner in its official website on Friday, 4 February 2022 at 6:00 pm.
Children's Corner featured e-books from the Philippine National Commission for Culture and the Arts (NCCA). Additions to the collection of e-books will be made regularly with cultural materials to encourage second and third generation Filipinos and Filipino-Canadians overseas of all ages – elementary and secondary students. The e-books will also be made available to mainstream Canadians. Storytelling sessions conducted by Consul Rodney Jonas L. Sumague, Consul Mary Grace V. Villamayor and Vice Consul Edward D. Chan, can also be accessed in the Children's Corner.
Sentro Rizal Toronto hopes that through Children's Corner, children in the Filipino Community in Western Ontario and the Province of Manitoba will be encouraged to read Philippine literary and published works such as Filipino myths and legends (alamat) and fables (pabula).
A soft launch of the project was also held during the meeting between Consul General Castro and Vice Chair and Trustee Luz del Rosario and Trustee Garry Tanuan, Filipino Canadian elected Trustees from the two (2) largest Catholic District School Boards, the Dufferin-Peel Catholic District School Board (DPCDSB) and the Toronto Catholic District School Board (TCDSB), respectively. The two officials will promote Sentro Rizal's Children's Corner to students in their respective Board-run schools.
(PRESS RELEASE)