Top 3 reasons to add plant-based proteins into your diet
Top 3 reasons to add plant-based proteins into your diet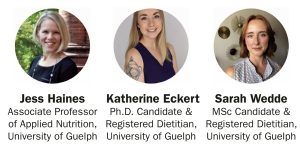 March 6, 2022
Fostering sustainable food systems is an urgent global priority. Sustainable diets are a part of food systems with important implications for human and environmental health.
While definitions of sustainable diets are still evolving, increasing plant-based protein consumption is a common theme among recommendations, including Canada's Dietary Guidelines and the EAT-Lancet Report.
Plant-based proteins are protein-containing foods that come from plants instead of animals. Common plant-based proteins include foods such as beans, nuts, seeds and tofu.
Despite this increased global and national focus on sustainability, not very many of us are eating a sustainable diet — only five per cent of Canadians have indicated that they follow a plant-based diet and just 14 per cent of Canadians reported eating legumes on any particular day.