BAYAN Canada-led groups hold rally, vigil at PH Consulate
BAYAN Canada-led groups hold rally, vigil at PH Consulate
By Lui Queaño
The Philippine Reporter
TORONTO — Bagong Alyansang Makabayan-Canada (New Patriotic Alliance) including other community and progressive groups held a rally and vigil vigil on Monday, May 9 in front of the Philippine Consulate in Toronto to raise awareness for voter suppression.
The vigil was held the same day COMELEC called to stop receiving ballots at the 7PM cut off time in other consulate groups such as British Columbia and Ottawa as preliminary Election Day results were still being counted.
"Today's vigil is a coordinated Canada-wide vigil rally to protect the votes that have not been counted for," Olivia Camacho, Malaya Movement in Canada convenor said.
Nova de Leon, a registered voter and an accredited poll watcher came out in support of the vigil. She is a member of Kabayan for Leni and Kiko. Because the groups are involved with each other's events on various elections issues, de Leon's group came out to join the vigil.
Protesters held up signs outside the Philippine Consulate in Toronto. Volunteers from the International Coalition for Human Rights in the Philippines-Canada (ICHRP), Migrante Ontario, Anakbayan Toronto, 1Sambayan , Grabriela Ontario, and Malaya Movement in Canada handed out flyers saying "count every vote."
Rhea Gamana, BAYAN Canada Secretary General, who is also involved in pollwatching, said they've been fighting hard to make sure honest and clean election matters. Part of their work includes educating people to vote and making sure everyone's vote is counted.
"The only people who can say that they choose who wins the election is us, the people," Gamana said.
Leny Simbre, Migrante Ontario Sec Gen, reiterated the need to guard against election irregularities and called on all Filipino voters in Toronto to protect the ballots.
"We must collectively as a people ensure that this election is clean and honest and protected with the vigilance of the Filipino youth, migrant workers and the pollwatchdog Koalisyon Kontra Daya," Simbre said.
Ben Corpuz, convenor of Koalisyon Kontra Daya said."We need to make sure that we are able to continue to use the momentum that we've had and that we've seen during the campaign, during the collective efforts of the Filipino people in and outside the Philippines, to continue to push for progressive policies and goals that we have been fighting for decades."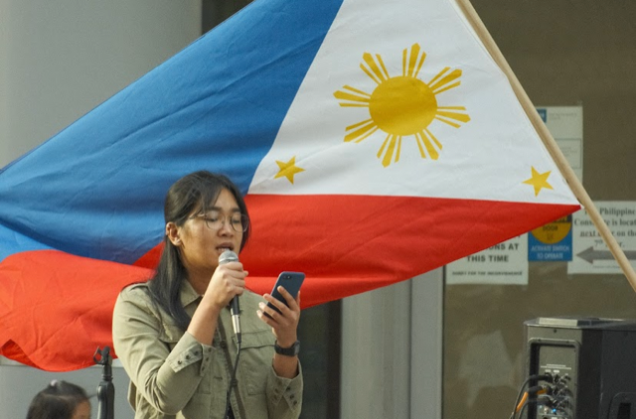 The Philippine Consulate had to close its operation to count thousands of mail-in ballots Monday (May 9). The setback made it unlikely that results would be finalized early Tuesday due to lack of manpower to do the counting.
An updated set of final election results was posted on the election board at the consulate for all pollwatchers and observers from political parties to see. This number included 11,119 valid ballots from twenty (20) precincts as verified by members of the Board Election Inspectors.
Bayan Muna Partylist pollwatchers filed an election protest, calling to investigate the elections results and demanded manual counting. Consul RJ Sumague said it will refer the matter to the Comelec.
Anakbayan Toronto chair Sherald Sanchez in her speech on Monday said, "We, the youth, are learning to investigate, be critical, and fight for the truth and the people. Let us take a moment to think about this: who has the money and government connections to orchestrate this level of theft of the people's democratic voice? They are our real enemies."
Filipino-Canadian youth like Sanchez have been in the forefront of protest rallies since the start of the election campaign urging Filipino voters to choose the right candidates such as Makabayan Bloc Neri Colmenares and Elmer Bong Labog. She said only those who are truly the servants of the people should win in the election.
"We must take a stand, event when it feels difficult, even when it feels impossible, " Sanchez quipped.