Husband-and-wife tandems win polls in 4 Batangas towns
Husband-and-wife tandems win polls in 4 Batangas towns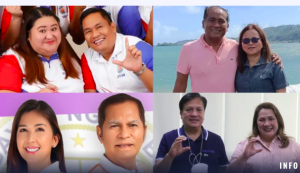 BATANGAS, Philippines – Four towns in Batangas elected husband-and-wife tandems as mayors and vice mayors on Monday, May 9.
Re-elected for the position of mayor in the town of Mataasnakahoy is Janet Ilagan, who received 11,199 votes, and her husband Jay Ilagan for vice mayor with 10,907 votes.
In the town of Lobo, Lota Manalo won with 12,332 votes, while her husband Gaudioso Manalo was elected vice mayor with 11,399 votes.
Meanwhile, lawyer Cindy Reyes won the mayoralty race in Agoncillo town to replace her husband, lawyer Daniel Reyes, who was elected as vice mayor.