Islas Filipino BBQ & Bar: A delicious culinary adventure
Islas Filipino BBQ & Bar: A delicious culinary adventure
By Michelle Chermaine Ramos
The Philippine Reporter
Located at 1690 Queen St, West, Islas Filipino BBQ & Bar is a cozy venue to enjoy Filipino food. We visited the restaurant for dinner during Filipino Restaurant Month on April 16, 2022, with the Philippine Consulate General to learn more about their offerings. The first thing you'll notice upon entering is a shelf with Filipino themed greeting cards, mugs and other merchandise. The interiors have an industrial chic vibe with small elements of inconspicuous Filipino décor.
Unlike most sit-down Filipino restaurants, the ethnic visual elements aren't so pronounced at first glance. Non-Filipinos who aren't particularly on a mission to try Filipino food could easily walk in from the street viewing the façade as any contemporary mainstream restaurant and be pleasantly surprised with a delicious culinary adventure. The place was busy and attracts a mainstream crowd of Canadian diners of various backgrounds and ages. Owned by young couple chef Marc Buenaventura and his wife Mariel, the place seems to be a popular hangout for millennials, and they have also hosted events and collaborated with other Filipino businesses.
They opened the restaurant in December 2017 as their first business venture. Marc's parents migrated to Toronto in the 1970s and he grew up here surrounded by lots of relatives. He credits his mother and titas for introducing him great homecooked Filipino food as he observed them prepare for family parties and barbecues. He said there weren't many Filipino restaurants back then and eating out was more of a luxury.
As he grew older, Marc decided to do some soul-searching to explore his Filipino roots and decided to take trips to the Philippines on his own where he eventually met Mariel. Marc's father's side is from Tondo while his mother's side is from Paete, and Mariel is from Antipolo. When they started dating, Marc began to be inspired by the different types of food they tried. There, he was able to explore the different types of regional cuisine, local ingredients, and cooking methods.
"With the menu, a lot of those items we chose were stuff that me and Mariel were eating, things I grew up with, and some of our favorite dishes as Filipinos. For instance, who doesn't love sinigang? For me, it's comfort food. I needed to have a version of it on my menu and just wanted to make sure that it's good enough so that titos and titas would enjoy this one and they won't complain or compare it to what they do at home. That was my goal. Every time I chose a dish, I just wanted to make it better than theirs," Marc explained. In this interview, he shared how he launched his dream with no formal culinary arts education by taking an unconventional hands-on route.
Do you have a culinary arts background? What are your culinary influences?
It was more of a change of a career 'cause at the time when I was travelling back to the Philippines, I was selling cruises and vacation packages. That industry was very competitive at the time and was dying out. I noticed that I would always talk about the food and the drinks and the experience. That's what led me to choose this path. It was also out of necessity. When Mariel came to Canada, I needed something more consistent in terms of pay. I was at that time of my life where I wanted to do something I enjoyed and not just for the money.
I went into the restaurants and researched what restaurants I could learn from. I started off at some corporate restaurants. I went in there with the mindset that I wanted to learn every station and every area of the business. This was in 2012-2013. What was pretty cool about it was at that time I just went all in and soaked up everything like sponge. One thing led to another and I was able to lead kitchens and hire staff. I found myself moving into different areas of the business that I needed to eventually get where I am now. Even now I'm still learning. In this industry, you have to continue to evolve and educate yourself so you can grow.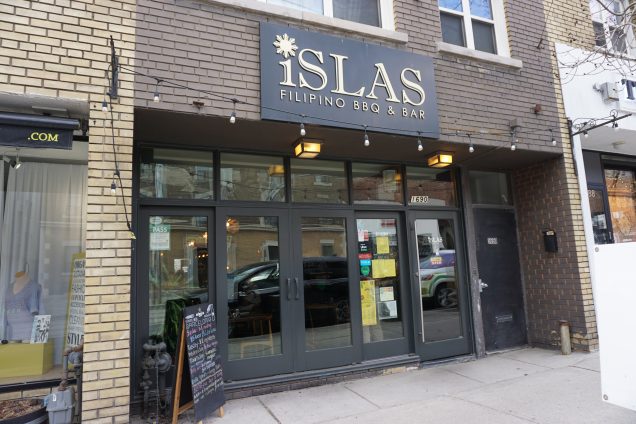 What items on your menu are popular with non-Filipinos?
Chicken sisig with crispy pork bits, bulalo, fresh oysters, and pancit. Pancit was a top seller especially during the pandemic
Right now, you're currently open only for dinner but that wasn't the case prior to the pandemic. How did you adjust to survive the lockdowns?
First thing we did was we changed our website and took control of it which helped. We were able to make a lot of changes ourselves. We gave people an option to schedule pickup or delivery through our website. We put a list of items on there including beer and snacks. At one point, we made a little sari-sari store in the restaurant during the pandemic for people to see when they would pick up their food.
I think what also stood out was we started to put our takeout in different boxes so people could still get the kamayan experience in a box in different sizes. We were getting a lot of orders of that during the pandemic. Just continuing to have a presence online and letting people know we were still around and creating stuff.
What else should people know about your restaurant?
We're planning to open up for brunch in summer again. We'll also have a patio. We're looking to do more collaborations in the future with some other chefs from other restaurants. We do an event every now and then called pulutan which means snacks. So I collab with a chef, and then I'll bring in a DJ and we'll just make a night out of that where he makes three to four different pulutans and guests can order one of the items we are making. We've had some amazing dishes come out of those nights because they don't sell them anywhere else. A lot of those guys just sell them for that night and that's it.
Do you know an excellent Filipino restaurant or food business you would recommend? E-mail at pitchmichelle@gmail.com