KANTO byTita Flips elevates Filipino street food in Toronto
KANTO byTita Flips elevates Filipino street food in Toronto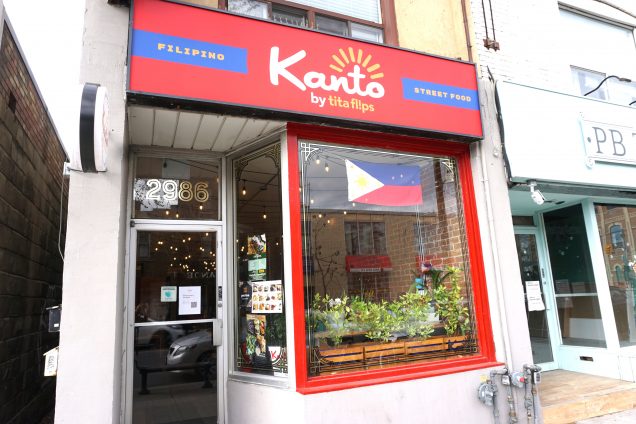 Self-taught chef Diona Joyce's test of grit and taking chances
By Michelle Chermaine Ramos
The Philippine Reporter
Kanto by Tita Flips' success story is the perfect example of starting before you're ready. Back in 2012 when self-taught chef Diona Joyce "Tita Flips" sent in her application for one of the shipping containers to be retrofitted at Scadding Court Community Centre to create Market 707, it was more of a dream. She was working in insurance and catered on the side as a hobby, channeling her passion for cooking by making party trays for her friends.
Dreaming big
The community centre wanted to create a multicultural market out of refurbished shipping containers which was to be the first of its kind in Toronto. "I was like, maybe I could do Filipino street food. It was like make-believe for me, and I was writing my heart out. It was like, in a perfect world, this would be my concept. This would be my menu. It would be the first Filipino street food in downtown. There were also not a lot of Filipino restaurants in downtown Toronto at the time," Joyce said.
Knowing there were 47 applicants ahead of her in the queue, she did not fix her hopes on her proposal being chosen or evaluated anytime soon. They called her three weeks later saying she got the spot. "I said my goodness! What happened to the 47 other people? I didn't even think that they were even going to call me. And they said 'We saw what you wrote and we liked it and there are no offerings like that. We haven't heard of Filipino food and there's no representation of that. We want to be the first one if ever. So do you want it?' I said of course I want it!
(Laughs)" she recalled.
Taking the leap of faith
She signed the contract for Kanto's first location in the shipping container at 707 Dundas Street West in Kensington-Chinatown. They opened in the middle of winter in February 2013 ready to serve freshly cooked made-to-order street food with little foot traffic in the freezing weather. Naysayers told her that her idea would never work because Filipino food would never penetrate the mainstream market. However, Joyce focused on promoting her favorite food starting with tapsilog and other silog dishes and spent the first two months getting feedback from customers to finalize the items on her menu in time for spring and summer when things took off.
They decided to open an indoor dine-in location and opened the restaurant at 2986 Dundas Street West in the Junction in March 2020. However, they got hit by the first lockdown when the pandemic began. Since most of their business came from catering for office lunches, they lost a lot of sales when people started working from home. To survive, they shifted to offering takeout and were the first to offer boxed kamayan kits which became their bread and butter as Joyce personally went around delivering boxes to different parts of the city.
We visited the Junction location for lunch with Consul General Orontes V. Castro during Filipino Restaurant Month on April 16, 2022, to learn more about their offerings. There were non-Filipino patrons enjoying their meals and picking up their boxed kamayan sets. Their menu has gone beyond pioneering Filipino street food and features traditional favorites as well as some vegan twists on popular dishes.
For appetizers, we started with the fresh vegetarian lumpia with peanut sauce and vegan ukoy with squash, sweet potato and mung bean sprouts. The lumpia was delicious, large and filling and can be shared by two people if you're also ordering other dishes. The vegan laing made with tofu was tasty served over rice and so was the beef kare kare. For lechon fans, there's the lechon with atchara. The richness of the kare kare peanut sauce and coconut sauce in the vegan laing were nicely washed down with their refreshing orange pekoe calamansi iced tea with honey.
While everything we tasted was satisfying, my absolute top pick dish that I highly recommend others to try here is the chicken piyanggang which Joyce learned to cook from the Tausug tribe in the Philippines. The time-consuming and labour-intensive indigenous cooking method involves burning a whole coconut to create the blackened sauce before grilling the chicken. I haven't seen this served in other Filipino restaurants, so this is a delicious must-try dish. This is the place to take your vegetarian, vegan and meat-lover friends for Filipino food in downtown Toronto. They also have Sunday brunch buffets Reflecting on her journey, Joyce said, "There's always something interesting. There's always a curveball. Sometimes you might do something people might see as a problem but I think that's just an opportunity for you to learn to be innovative, to test your grit, your emotional intelligence and how far you're willing to bend to build your emotional and mental fortitude." She does admit to having moments of self-doubt like everyone else but faith in a higher power always helps her stay on track. "You know, sometimes when you have that conversation with God and say, 'you brought me here. Let me know if this is not what you want me to do,' and there's always signs saying to go on. You're still in the game."
Do you know an excellent Filipino restaurant or food business you would recommend? E-mail at pitchmichelle@gmail.com