5 ways school boards can address racial injustice
5 ways school boards can address racial injustice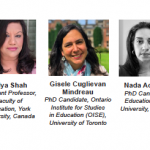 Schools and school boards struggle to respond to racism — and continue to fail to dismantle systemic barriers that affect Indigenous, Black and racialized students and families.
These barriers affect not only student learning, but student, family and staff well-being and sense of belonging.
Amid debates about school board effectiveness, some provinces across Canada have abolished or changed public governing structures overseeing school boards, or are debating doing so: for example, Québec abolished school boards in 2020 and Nova Scotia abolished boards in 2018. In April, New Brunswick's minister of education defended plans to eliminate current district education councils and replace these with a provincial board and regional councils.