Red-tagging Kontra Daya convenor delusional – IBON
Red-tagging Kontra Daya convenor delusional – IBON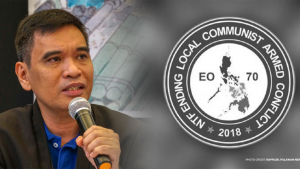 May 20, 2022
Research group IBON clarified that election watchdog Kontra-Daya spokesperson Prof. Danilo Arao was one of IBON's senior staff in 1999 during the time that a "former cadre" accuses him of involvement with so-called communist terrorists.
A dubious source of the National Task Force to End Local Communism and Armed Conflict (NTF-ELCAC), Jeffrey Celiz, said in a statement that he and Arao joined a workshop organized by the Communist Party of the Philippines-New People's Army-National Democratic Front (CPP-NPA-NDF) in April 1999.
IBON said that Arao worked with IBON for many years as Editor-In-Chief and Research Head while lecturing at the De La Salle University (DLSU) and University of the Philippines (UP) Diliman from 1994-2001. This was before he became a full-time UP professor and editor-board member of alternative media outfit Bulatlat starting 2001.