Filipino desserts for summer
Filipino desserts for summer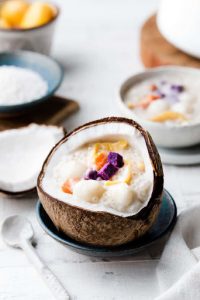 Article from Dessert Advisor blog, www.dessertadvisor.com
As part of the Filipino Heritage Month (June), we're looking at some of our favourite Filipino desserts (or "panghimagas" in the Philippines' Tagalog language) and snacks, going on a summer-long dessert vacation. Summer is the perfect season for terraces, cool drinks, and that long-awaited holiday in the sun. But why not make the whole summer your vacation? The tropics know best when it comes to cooling down after that summer heat. So, take a break from the ordinary with a trip to the country of a thousand islands, the Philippines, through dessert!
Iconic Filipino Desserts
The ingredients in Filipino desserts are reflective of the 7,000 islands and islets that make up the Philippines. Many desserts contain tropical fruits like coconuts, mangos, bananas, and jackfruit. Banana leaves are also traditionally used for serving and wrapping food. Not only are they beautiful, but they also add a mild, sweet, earthy flavour to the dish. Serving food on a banana leaf is called "salo-salo style," which means "banquet," "feast," or "gathering." And wrapping the food in it is called "binalot" which means "wrapped."
In the Philippines, it is popular to steam desserts since there is no equivalent to an oven in a traditional Filipino kitchen. Many desserts are cold to help with the hot climate, but steaming does come into play with some of the more savoury sweets containing glutinous rice. Rice is key in Filipino cuisine and is the most important agricultural crop in the Philippines. If you're at a Filipino event, there will always be desserts nearby. But you can also enjoy them for "merienda" (an afternoon snack) as well.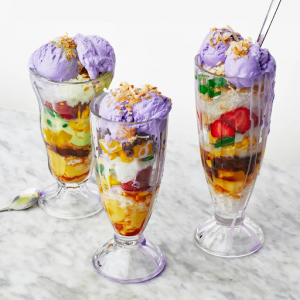 Halo-Halo
Halo-Halo (or haluhalo) is so popular in the Philippines, that it's unofficially considered the national dessert. It has a wide variety of ingredients which makes sense as it translates to "mix" or "stir". If you order Halo-Halo, you will receive it in a tall clear glass with a long spoon, presented in 3 layers. The bottom layer includes fruits, other sweets, and even some savoury ingredients. A layer of shaved ice fills the middle. And it is all topped with a scoop of flan, "ube" (mashed purple yam) or mango ice cream. Once you serve it, pour evaporated milk or "gata" (coconut milk) over everything. Popular fruits you'll find in the bottom layer would be sweetened bananas, mango, and jackfruit. Some savoury ingredients usually include mung beans, corn kernels, taro, or munggo (sweet red bean). The presence of coconut is also common in Halo-Halo in the form of coconut gel or "macapuno," which is a gelatinous coconut string.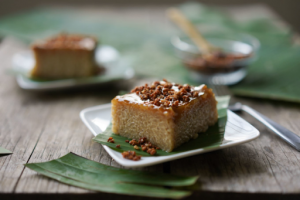 Biko (Sticky Rice Cake)
Biko is a type of sticky rice cake in the Philippines called "kakanin," which means "eat" (kain) and "rice" (kanin). Kakanins are popular in many different cultures' cuisines for both sweet and savoury dishes. These sweet dark brown-sugared kakanins are staple Filipino desserts and are known for their sweet coconut taste and glutinous rice. They have a caramelized coconut sauce and latik (crispy coconut curds) on top. Rice and coconuts are some of the most traded agricultural export in the Philippines because the climate is perfect for them. Coconut trees are "the trees of life", and rice is integrated into almost every meal, having deep roots in the culture, diet, and even religion. So, when you mix rice and coconuts in Biko, you get an extra special dessert.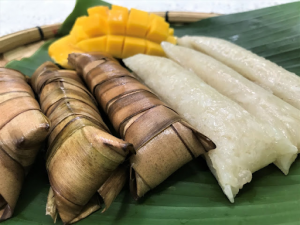 Suman
Suman is another kakanin rice cake with coconut, but this one is more of a merienda snack. It is also an example of the binalot wrapping of banana leaves. The chef cooks glutinous rice and gata (coconut milk) just until al dente and then wraps them in the banana leaves. They steam the leaves to soak up the taste until the rice is fully cooked and sticky. Restaurants all over the world have caught on to how delicious Suman is. So, you can find it with all sorts of sauces and toppings like the crispy latik coconut curds, caramel sauce, or even fish flakes. Traditionally, sprinkled sugar or brown sugar, coconut gratings, and ripe mango top the suman.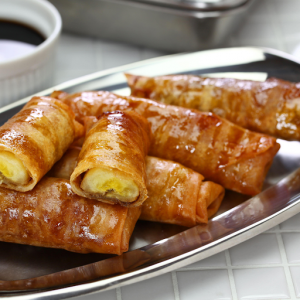 Turon
Turon is an iconic Filipino merienda street food made of brown sugar, a flour lumpia wrapper (i.e., spring roll thin and crispy dough), and saba bananas. Saba bananas are short and thick bananas native to the Philippines but have the same nutritional value as a potato. They are raw or cooked, and are also a condiment known as "banana ketchup." In turons, the saba bananas are rolled together with brown sugar in the wrapper and deep-fried to a golden crisp. They are soft on the inside and crunchy on the outside, so they taste best when freshly made. Turon is amazing on its own, but you can also enjoy it with a scoop of vanilla ice cream if you need to cool down.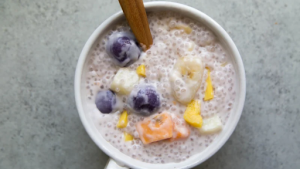 Ginataang Bilo-Bilo
"Ginataan" means "cooked in coconut milk" in one of the Philippines' indigenous languages, Tagalog; which is very fitting for our next dessert. Ginataang Bilo-Bilo cooks glutinous rice balls, plantain bananas, sweet potatoes, and tapioca pearls in sweet coconut milk. Usually, it will have a jackfruit topping. Ginataang Bilo-Bilo is the perfect comfort food because it's nutritious and filling, and can be served hot or cold, depending on how you're feeling.
Cassava Cake
Cassava is a very important root in Filipino cuisine that people cook in a variety of ways. It replaces potatoes in many diets all over the world as the tree is extremely drought-resistant. You also make tapioca starch from the cassava plant! The Philippines has extensive farmlands and calls the cassava tree "Kamoteng Kahoy." Cassava cake is popular at potlucks and special occasions as it's a rich and creamy crowd-pleaser. It melts in your mouth, perfectly blending buttery, nutty, coconutty flavours. Grated cassava root tops the dessert, so it has a little crunch to it.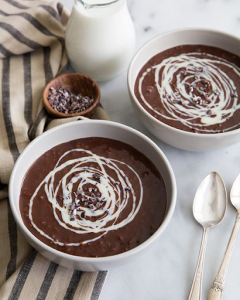 Champorado (Filipino Chocolate Rice Pudding)
If you like eating chocolate for breakfast, champorado is for you. It's a sweet chocolate rice porridge made with glutinous rice and tablea. To make tablea, people roast ground balls of cocoa nibs that are popular in Filipino hot chocolate. In the case of champorado, the presence of glutinous rice makes the treat more of a porridge or pudding texture. Frequently, you can drizzle thick evaporated milk on top of the champorado. For a savoury rendition, you can get it with a side of "tuyo" (salted fish) and a "pandesal" (bread roll). Champorado traces back to the time before the Philippines gained independence, and comes from the Spanish champurrado (a warm and thick chocolate beverage). But it has been adapted through the years to ingredients more fitted to the Philippines and Filipino desserts.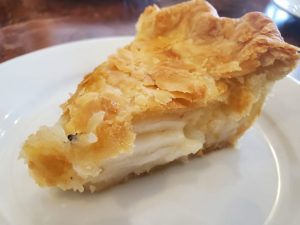 Buko Pie
Buko pie is a popular treat for dessert or merienda that you can pair with coffee, tea, or your favourite cold drink. "Buko" refers to the fresh coconut meat that lines the inside of a young green coconut, and the filling of the pie puts this ingredient front and centre. The filling is creamy and custardy, with a perfectly flakey crust. The founders of the buko pie are the Pahud sisters who wanted to name their Laguna bakery "The Orginal Buko Pie." Due to the use of an "adjective" the system did not accept the name, so they decided on "Orient Bakery," combining the phrase "original enterprise." The popularity of Buko pie in the Philippines, and especially on its largest island, Laguna, has made the pie a kind of "pasalubong" souvenir brought back to families. This Tagalog word refers to a souvenir or gift honoring the recipient and allowing the traveler to share their good fortune.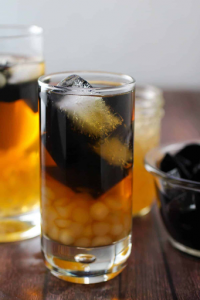 Sago at Gulaman (Drink)
Sago at gulaman is a popular iced drink you can find almost everywhere in the Philippines. The liquid is a brown sugar simple syrup with sago pearls on the bottom and topped with gulaman (dried agar). Sago pearls are similar to tapioca pearls in bubble tea; they are more of a sensation and experience than a taste. They are chewy little balls of the edible pith (spongy white part of usually a citrus fruit) from tropical palm trees that add a fun break to the liquid texture of a drink. Gulaman is dried agar (or carrageenan seaweed) used to make vegan jelly desserts. In Sago at gulaman, the gulaman has the consistency of a gelatin dessert and sits atop the tapioca pearls. This drink may sound very sweet, but it all ends up tasting more like a slightly sweetened winter melon tea. This is because the simple syrup's boiling enhances the brown sugar's molasses taste.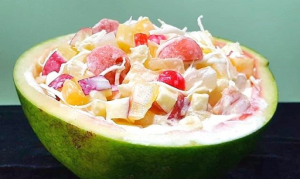 Buko Salad
Similar to buko pie, buko salad emphasizes the use of young coconut meat. But in this case, it is shredded in the fruit salad. The base of buko salad is a thickened cream and condensed milk that coats all the fruits, which can vary according to preference. One frequently used fruit is nata de coco, a fermented coconut gel that also looks like Jell-O. Another fruit is kaong, the young fruit of the sugar palm tree that almost resembles jellybeans.
A variation of buko salad is buko pandan salad. It's like a cross between the sago at gulaman and the buko salad. Instead of the chewy sago pearls of the sago at gulaman, there are kaong. Pandan replaces the gulaman, which has a grassy vanilla taste, and the liquid of the buko pandan salad is a sweetened cream. Lastly, of course, we can't forget the signature buko salad shredded coconut.
What is Filipino Heritage Month?
June is an important month in Canada with lots to bring awareness to and celebrate. It's National Indigenous History Month, Italian Heritage Month, Portuguese Heritage Month, and the launch of Pride Season. And on June 1st of 2021, Filipino Heritage Month finally became an official part of this month. June was chosen in homage to June 12th's Philippines Independence Day, commemorating their independence from Spain in 1898. Paulina Corpuz, who began the Heritage Month process, wanted to bring increased visibility and appreciation to Canadians of Filipino descent, and their rich and diverse culture.
Many Canadians of Filipino descent were on the frontlines in Canada during the pandemic, driven by a sense of "Kabayanihan;" a cherished value in Filipino culture meaning solidarity, selflessness, and heroism. We hope that you learned more about these invaluable contributions and can celebrate the traditional Filipino history, languages, art, food, and desserts!
We hope you're feeling staycation-inspired and cool for facing the sun all day (maybe with the help of some SPF too). Whether you're in the Philippines, Canada, or just sitting on a terrace, go ahead and embrace the heat! With Filipino desserts or snacks on your side, you can cool down and enjoy summer. Find some sweet treats near you!