Quebec migrant workers rally for regularization for all
Quebec migrant workers rally for regularization for all
Migrante leads discussion
By Michelle Chermaine Ramos
LJI Reporter
The Philippine Reporter
Members of migrant communities of different ethnic groups and advocates rallied on July 17, 2022, in front of Premier Francois Legault's office to demand regularization for all.
According to the government of Canada's website, "while there are no accurate figures representing the number or composition of undocumented migrant population in Canada, estimates range between 20,000 and 500,000 persons."
Migrante Quebec held a virtual information session on July 14, 2022, in anticipation of the federal government's new regularization program to be announced this September. Migrante is advocating for a fair regularization program for migrant workers who entered Canada legally but lost their status for one reason or another.
Joey Calugay, a coordinator at the Immigrant Workers Centre and Cheney De Guzman, an immigration consultant led the discussion and explained the requests they are putting forth for the government to protect migrant workers' rights.
How do people lose their legal status?
Abusive employers. Some migrant workers who escaped from their abusive employers couldn't find other jobs due to their closed work permit and eventually lost their legal status to stay and work here. They often don't know who to turn to for help and find themselves in a vulnerable position because of their lack of support or knowledge of the immigration process.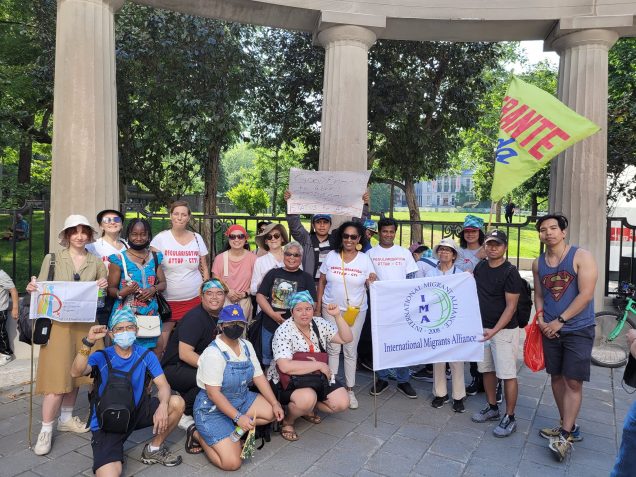 Illegal recruitment: Some have become victims of fake recruitment agencies or immigration consultants or lawyers. They are brought here with the promise of an employer offering work waiting for them only to discover that they were never hired for a legal job.
Employers' negligence or dishonesty: Some have been lied to by employers or their employers' immigration consultants or lawyers who assured them that they have applied to renew their work permit but never did.
Overstaying: Some overstay because they would rather not go back to the Philippines.
Applications denied: Some apply for refugee status and their claim is declined.
Possible problems with the government's soon to be announced new regularization program
It might be exclusive for just a few selected sectors.
There might be bureaucratic barriers.
The process might not be clear and risk putting applicants in danger of detention or deportation.
The applicants might not be able to work right away if they are not given an open work permit and the process takes too long.
Quebec might refuse to cooperate with the federal government on whatever program they introduce. The CAQ government might push their stance on controlling immigration to get reelected.
Migrante Quebec is calling on the federal government to prioritize the following Issues: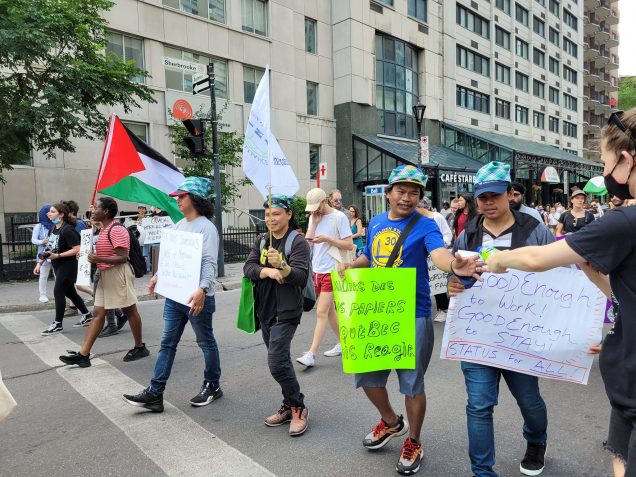 Prevention
Remove systemic barriers such as language requirements and supporting documents that are difficult and expensive for applicants
Accelerate the processing of permanent residence applications
Migrants are asking the government to remove the language requirements because they have already proven their ability to work in Quebec, especially those who have been with the same employers for years.
Pathway to inclusion
Expand and raise the acceptance rate for Humanitarian and Compassionate applications
This route is for those who can't speak English, are 45 years old or older who cannot reach the number of immigration points required, or those who lost their status. According to immigration consultant, Cheney De Guzman, the government is currently denying 70 percent of applications.
Remove the fees for Humanitarian and Compassionate applications.
Place a moratorium on deportations
Applications for Humanitarian and Compassionate grounds currently cost $1,085 per person plus $155 per dependent child plus the cost of biometrics. (See Government of Canada form here: https://eservices.cic.gc.ca/epay/order.do?category=14)
Protection and rights for all
Provide access to Interim Federal Health Program to Humanitarian and Compassionate applicants and other regularization streams.
Refugees who are accepted into Canada are given free access to healthcare. Migrante is advocating for H&C applicants who pass the first stage of application to likewise get access to free healthcare. Their position is that even undocumented workers are able to pay taxes and therefore should be entitled to free healthcare like other taxpayers.
Many workers after renewing their work permits are faced with additional problems because of the backlog or delay in the process of getting their renewed permits. While waiting, they are given a maintaining status letter which hospitals do not accept because they only recognize official work permits. Migrante is asking Immigration Canada to inform all provincial governments to instruct hospitals to accept this letter because it often takes over a year for migrant workers to receive their renewed work permits.
Services
Provide access to provincial health care, housing financial supports and social services,
Create a provincial task force to deal with unscrupulous recruitment agencies and immigration consultants and lawyers.
Safety
Provide a safe community with policies of Don't Ask, Don't Tell in collaboration with municipal governments
This is to break the stigma and allow undocumented workers to seek health care and other services and to empower them to come forward to report their experiences of being victims of abuse and fraud.
————————————
SOURCES AND RELATED STORIES
CIMM – Undocumented Populations – March 3, 2022
https://www.canada.ca/en/immigration-refugees-citizenship/corporate/transparency/committees/cimm-mar-03-2022/undocumented-populations.html
Support grows to stop the deportation of McKenna and mother
https://philippinereporter.com/index.php/2022/06/24/support-grows-to-stop-the-deportation-of-mckenna-and-mother/
Stop the deportation of McKenna and mom
https://philippinereporter.com/index.php/2022/06/10/stop-the-deportation-of-mckenna-and-mom/
Mom to be deported in July: 'Undocumented workers are not stealing jobs'
https://philippinereporter.com/index.php/2022/06/10/mom-to-be-deported-in-july-undocumented-workers-are-not-stealing-jobs/