Rotor's Bakery n' Pizzeria thriving in small Manitoba town
Rotor's Bakery n' Pizzeria thriving in small Manitoba town
By Michelle Chermaine Ramos
LJI Reporter
The Philippine Reporter
Mercy and Richard Rotor's journey to the small town of Neepawa in Manitoba was spurred by a chance encounter on a plane. Richard arrived in 2013 in Winnipeg where he worked before finally being able to sponsor Mercy's move to Canada on a spousal visa in August 2018.
During that flight, they struck up a conversation with a fellow passenger who hailed from Neepawa. When Richard mentioned his dream of starting his own bakery and pizzeria, the stranger suggested that they open their business there since the place was so small that they didn't even have their own bakery.
A week later, Mercy and Richard visited Neepawa to scout the area and were delighted to discover the large Filipino population residing there. This is due to the influx of migrant workers who were hired to work as butchers at the local Hylife plant which is Canada's leading pork producer.
These migrants eventually sponsored their families to live with them bringing a new generation of school children to the community. According to a June 29, 2022, CBC News article by Marjorie Dowhos, "the 2016 census showed that Filipinos made up Neepawa's largest visible minority population, with a total of 1,635 people, or about 93 percent of the town's visible minority population."
Neepawa has a total population of 5,685 according to Statistics Canada's 2021 data. It is the 13th fastest growing town in Canada and the third fastest in Manitoba. (https://www12.statcan.gc.ca/census-recensement/2021/as-sa/98-200-x/2021001/98-200-x2021001-eng.cfm) "If you look at the population, you might say that 65-70 percent is Filipino. White people appear to be many because they have many houses unlike Filipinos with their children living under the same roof," said Richard Rotor.
Mercy hails from the province of Batangas and Richard is from Ilocos Sur. Richard first learned how to bake bread and other goods when he got his first job at a local Chinese-owned bakery while he was still a high school student back in the Philippines. He said this experience worked in his favor when he applied to work in Canada. He also honed his skills working at a pizzeria and a bakery in Winnipeg where he learned the ins and outs of running a business. He and Mercy decided to move to Neepawa in November 2018 and eventually opened Rotor's Bakery n' Pizzeria on August 2, 2019, where Mercy assists him by cooking other Filipino dishes and kakanin.
Longing for the taste of home, the local Filipino population flocked to their wares. The Rotors were also able to attract non-Filipino customers by offering free samples to taste every time they came out with a new product. Mercy says that their bestselling items for non-Filipinos include spring rolls, pancit, and their pandesal which Canadians love to eat as dinner rolls. Business grew to the point that they were constantly sold out of their goods.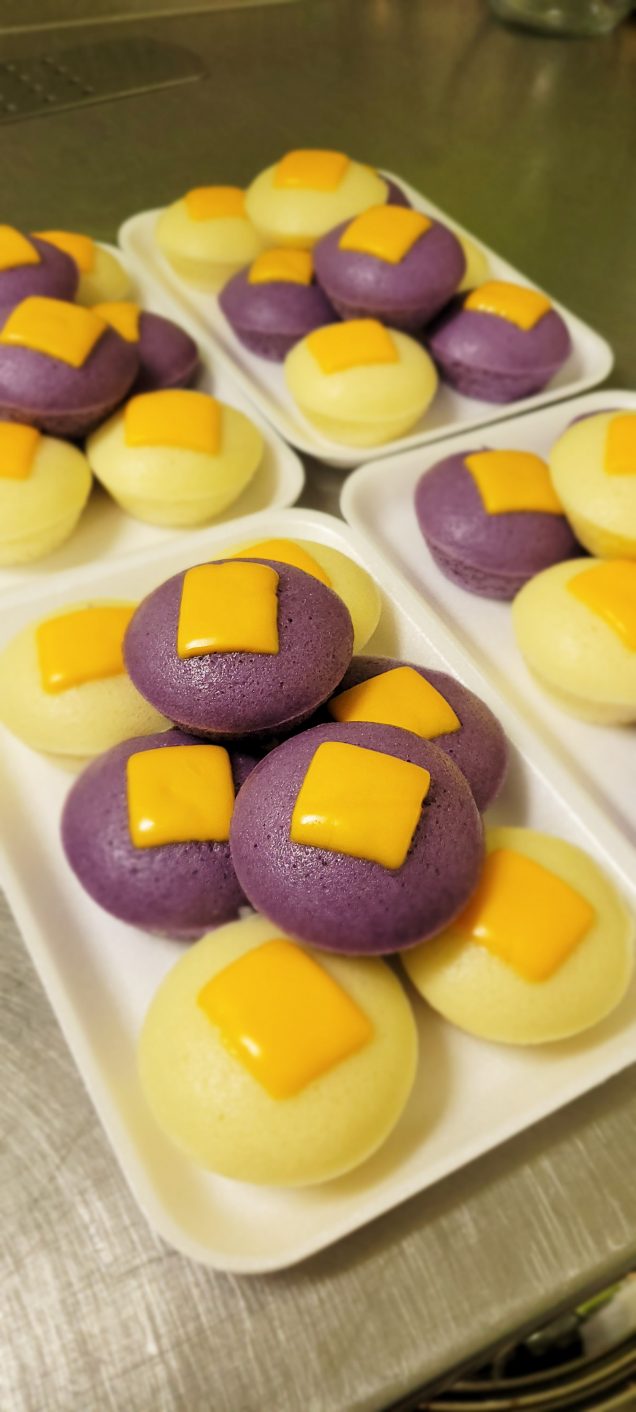 When the pandemic hit with lockdowns in March 2020, they feared that their business would suffer like many others in the food and restaurant industry. When asked what they did to survive the pandemic with their business being only months old in a very small town, Mercy revealed that they were happily surprised by a miracle. "We expected no one would come because of the pandemic but that's when we saw our prayers being answered when we asked the Lord to provide everything. We were truly amazed because our sales didn't decrease. They even increased. And we saw people's needs like as what's mentioned in the Bible about the bread of life, in our case, literally, bread became very important in the lives of people," she said.
Word continued to spread about their little bakery with the help of friends who blogged about their baked goods and pizza which led to customers dropping in from neighboring areas and Winnipeg. "Our bread has also reached Saskatchewan, Alberta, and even in the US where our friends introduced them to their loved ones and even in Ottawa," said Mercy.
They now have one full-time and two part-time employees and are about to celebrate their third anniversary this August 2, 2022. When asked for any advice they had to share or lessons they learned in their experience with the pandemic as a brand-new business, Mercy explained, "We started from nothing financially but that's where we learned that when you lift your burdens up to God, nothing is impossible. Of course, as human beings, we felt fear because of the challenges. But when you put your heart into something you want to do and invite God into it, that's where you will see what God will do in your life. We're very grateful firstly because my husband was blessed with a talent in baking that we were able to not just build a business, but were also able to help others by producing food. Neepawa is a very small community and it's very nice here. The Canadians are friendly to Filipinos. Neepawa is called the land of plenty. We are very grateful that the Lord brought us here and for the unexpected blessings."
Rotor's Bakery & Pizzeria Facebook Page: https://www.facebook.com/Rtor.25/
————
SOURCES
Statistics Canada Census of Neepawa
https://www12.statcan.gc.ca/census-recensement/2021/dp-pd/prof/details/page.cfm?Lang=E&SearchText=neepawa&DGUIDlist=2021A00054615020&GENDERlist=1,2,3&STATISTIClist=1&HEADERlist=0
Filipino community thrives in Neepawa, one of Canada's fastest-growing towns
https://www.cbc.ca/news/canada/manitoba/neepawa-filipino-community-1.6503485