KATIPS THE MOVIE: Review in Bits and Pieces
KATIPS THE MOVIE: Review in Bits and Pieces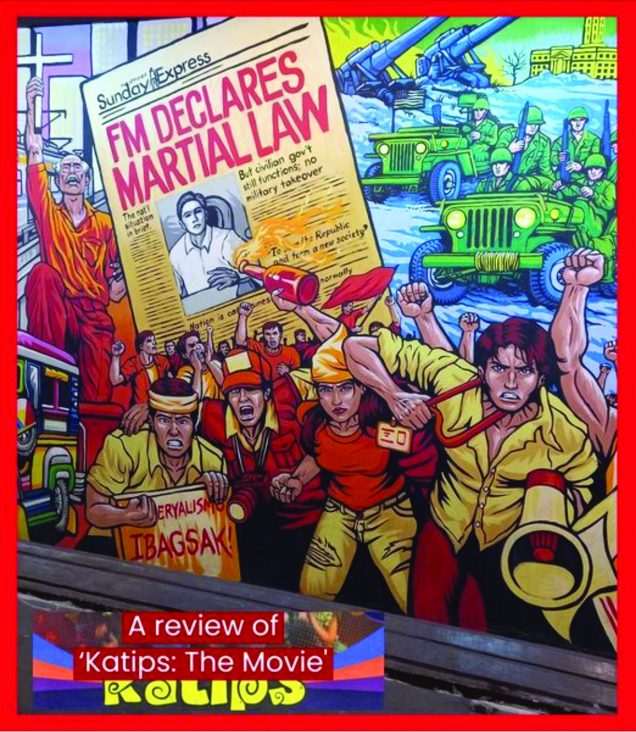 August 7, 2022
By Iskra Allende Roldan* 
On Historical Accuracy and Creative License
Katips makes use of both historical details and imagined people – composite characters of activists who lived and made sacrifices and even died for the struggle against the dictatorship.
Walang problema sa kombinasyong ito, but it's a tricky and delicate balance that I feel Katips failed to achieve. Pakiramdam ko nasayang ang oportunidad na makapaglinaw at makapagpalawig sa ilang mahahalagang konsepto at dahilan ng aktibismo lalo na noong panahon na diktaduryang Marcos na may kasaysayang pilit na nirerebisa at nililinis ng bagong gobyerno.
Hindi lang simpleng pagmamahal sa bayan ang paglaban noon: while this love was at the core, there were reasons that could've been explained further, like the poverty Filipinos suffered even as Imelda cleaned up the cities and build edifices to beauty and art.
Hindi rin napaliwanag ng mahusay bakit may mga welga at sa partikular ang kahalagahan ng welga ng mga manggagawa ng La Tondena Distilleries. There was no mention of the widespread hunger of farmers in the countryside or of the sugar workers, for instance because of the greed of landlords and cronyism.
Mga ugat na dahilan kasi ito ng galit at pag-aalsa ng masa at ng mga aktibista na tinapatan naman ng sukdulang kalupitan at pang-aabuso ng mga institusyon ng pulis at militar.
In real life and actual history, the reasons for outrage were established, justified and grounded, and the found solutions to society's problems learned, tested, and guided by a humane and class-based ideology.
Sa Katips kasi, parang bugso ng damdamin ang dahilan at galit. Parang chicken and egg: what happened first: the violence of the state or the dream of liberation and what it entailed to achieve it?
Hindi malinaw ang sagot sa Katips because of the somewhat muddled timeline. This is why I feel there were missed opportunities to explain why precisely Filipinos fought against the dictatorship and why activists risked their lives – gave their lives for the struggle. May mga pagbanggit na pahapyaw, pero hindi nilinaw kahit man lang sa dialogue. Sayang lang at kinulang because better dialogue, stronger characterization would've helped towards this end.
I suppose it can be called nitpicking, but one cannot help it when it comes to historical fiction or fiction that makes use of historical facts.
Sa konteksto ng Katips na pelikulang nais maglilinaw tungkol sa batas militar, dapat sana na mas ang tunay na kaganapan kasaysayan ang naging matimbang, at hindi lang ang nilikhang kwento (na medyo hilaw) ng mga karakter na umiikot dito.
More accuracy would've added to the authenticity. And more authenticity will serve to increase the understanding of viewers the movie wants to teach, convince, agitate into rethinking their complacency and tolerance for revisionism and continuing injustice.
Which brings me to the quality of the story-telling. I feel that that it was disjointed and some scenes and situations were contrived and yes, forced. There was a lack of subtlety and grace in the transition from one scene to the next because the characterization and the individual motivations of the characters were not established.
Iilan lang sila – the main characters – pero they were two-dimensional, not flesh and blood to me beyond what they collectively wanted for the country and its people: justice, an end to the human rights violations, a new government.
Iba ang handling, halimbawa, sa Sister Stella L, o sa Sakada. O kahit sa Heneral Luna. I appreciated how the characters there were…authentic. One was about a real historical figure, the two about people representing oppressed classes and sectors. There was real skill in both the structure of the films and the flow of the narratives.
Nakaugat sa nakaraan ang mga pag-unawa natin sa kasalukuyan, kaya dapat may pag-iingat sa kung paano tinatalakay ang nakaraan lalo pa't aminadong gustong maglinaw tungkol sa kasaysayan ng batas militar, ng diktaduryang Marcos, at kung bakit nagkaroon kapwa ng mas siyentipikong armadong rebolusyon sa kanayunan at demokratikong pagtutol sa kalunsuran.
There is a bigger responsibility here beyond the creation of art: the assertion of the correct knowledge and understanding of what took place and why.
I watched Katips with hope and expectations, and I found it to be an ambitious, creative, brave film. There is much to admire and to laud, but by no means is it perfect. Not as a documentation of history, and not as a creative expression of a political belief and understanding.
Kaya mahalagang panoorin ang Katips at magandang himay-himayin.
On the Amazing Music and Artistry of Katips
I was blown away by the acting and singing prowess of the leads of Katips and even by the ensemble players. Seriously, the songs were beautiful and upbeat and memorable. And even more seriously, the actors were genuine and very believable in their portrayals.
While I find the story telling a little lacking, there is nothing to be criticized or questioned about the music and the acting. Limited or unclear the backgrounds and personal motivations of the characters may be beyond their strong patriotism and commitment to the cause of the oppressed, the actors who played them, however, did justice to their roles.
I love the actor who played Alet in particular. And Ponyong. To hear them sing and to see them interact was gratifying. Sulit na sulit. Mon Confiado was loathsome and hateful. The police brutes in the torture scene were purely evil and we cannot (help but) wonder if the actors who played them got PTSD afterward for adopting the language and cruelty of those monsters.
On the other hand, the ironies in the sad stupidity and silliness of the song and dance number of the MetroAides is also thought provoking. "I love you, Apo!" went the lyrics, over and over, and the MetroAides dancing like crazed puppets, unthinking and blinded by a loyalty and love that the Marcoses did not deserve.
The songs – the rhythm and melodies – reminded me of the ones in "Rent" and "Les Miserables", and they were sang with such energy and passion that also stemmed from the depth of messages they wanted desperately to convey about love, about the political self, about the need to fight the darkness that keeps taking lives, destroying lives that only want to bring about light and justice.
On the Torture Scenes of Katips: True-to Life and Agonizing
Finally, there are the much-talked-about torture scenes.
These were painful for more reasons than just them being very graphic and violent. Having seen countless movies and television series featuring human acts of brutality and cruelty – action films like Ninja Assasin, John Wick, or horror series like the Walking Dead and the Boys – one would have thought that seeing torture scenes in a movie about martial law would be easy peasy, lemon squeezy. But it was not. Far from it.
The torture scenes in Katips were filmed in a way designed not only to shock, but to cause anger and outrage. The perpetrators were police officers – individuals sworn to uphold the law and protect human rights – but they were the ones who hit, pummeled, kicked, and electrocuted their hapless victims who were activists, unarmed civilians.
Blood was spattered everywhere – the walls, the floor, and the clothes of the torturers and executioners themselves. All the while they spat out invectives, their victims cried and screamed in agony, denying knowledge, refusing admission, resisting what was being demanded of them by the pain they were suffering: betrayal of the cause, betrayal of friends and comrades.
Half of the scenes this reviewer did not see as she put her jacket over her head. In the cold cinema, it was more than the aircon units that caused such a feeling of dead coldness that alternated with burning anger. Seeing the torture scenes and eventually, the scenes where the victims were killed, was very difficult because one knew that those long and agonizing, evil moments did happen in real life.
That they continue to happen even now, and that the killers continue to get away with their deeds.
There is no fictionalizing the barbarities of the AFP and the PNP then and now. We read the reports, and we see the result of their acts in the dead bodies of activists recovered from garbage dumps and rented apartments or formerly quiet city streets. Then and now, the acts of violence continue, and the enacted torture scenes of Katips captured them in gruesome and excruciating detail.
Covering one's head does not help block out the screams. Neither does it make one forget the testimonies of martial law torture survivors one has heard through the years. Katips made sure of that.
If you will shell out an exorbitant P290 for a movie in an actual cinema this year, use it to watch Katips. See it for the music, see it for the award-winning and award-worthy acting. See it for the history and the lessons that can be gleaned from it.
*Note: This review was posted by Iskra Allende Roldan in three parts but were put together to make it easier for readers to read in toto.