Pjay's auto service growing fast under COVID-19 pandemic times
Pjay's auto service growing fast under COVID-19 pandemic times
Minnedosa, Manitoba
By Michelle Chermaine Ramos
LJI Reporter
The Philippine Reporter
Peejay Santin was in the last semester of his second year studying civil engineering at Araullo University in Nueva Ecija when his father who was working as a heavy-duty mechanic brought the whole the family to join him in Canada on October 7, 2003. Santin was 18 years old with a girlfriend at the time and recalls the move to the small town of Erickson, Manitoba away from his huge social circle of friends and relatives in the Philippines as very challenging.
"Erickson is a very small town. I believe at that time it was about 800 to 1,000 who lived there. It wasn't a whole lot of Filipinos just yet. It was tough because I didn't know anything in English so when we moved here, I only knew 'yes' or 'no'," he said. Living in a predominantly white small town that wasn't as ethnically diverse as larger Canadian cities, Santin said he experienced racism and was often mocked for his lack of English proficiency.
In January 2004, he started working as a construction worker and found the Canadian winter unbearable, so he quit and moved to Brandon and worked at McDonalds making minimum wage to pay for the tiny room he rented close to Brandon University. He was placed in the kitchen at McDonalds because he did not understand how to take customers' orders and payments. Determined to learn English, he constantly asked his boss to assign him as a cashier so that he would be forced to speak in English and learn faster.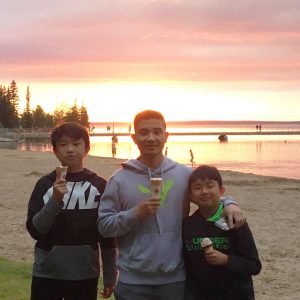 He registered for the government-funded English classes for newcomers at the Westman Immigration Centre where the government chose one student every year to sponsor to study English for Academic Purposes at Brandon University. Santin's determination and progress won him that opportunity and he completed the course. When he was 21, his ex-wife got pregnant with their first son so he got a full-time job with the newly opened Sleep Country branch in Brandon where he worked for five years delivering mattresses.
Although he eventually had a house with two kids and was financially stable, the job didn't fulfil him. "As I was driving, I was like, what if I can sacrifice another four years going to school? And you know, take what I know right now as a hobby mechanic or DIY mechanic to the next level?" Santin asked himself. As a teen growing up in the Philippines, he was used to fixing vehicles while his father was working abroad. By 28, he decided to quit his job and take a student loan to study at Assiniboine Community College to become a certified automotive technician while juggling his evening job as a homecare worker.
He later got a second job with Canadian Tire while still in school and eventually completed his four-year apprenticeship and passed the provincial exams. He graduated in 2017 and was planning to move to Alberta to work and save enough money to start his own shop back in Manitoba where his siblings and parents lived. He was about to accept a job at Brandon Chrysler when a friend in Minnedosa called to inform him that there was an old shop available for rent.
He opened Pjay's Automotive Services at 142 Main Street North in Minnedosa part-time in August 2019 and still held his full-time job as a journeyman technician in Brandon where he worked during the day and drove 30 minutes after work to fix cars at the shop on evenings and weekends. Business soon picked up and he left his job to work at the shop full-time on September 1, 2019.
Santin said that although they had a lot of competition in Minnedosa, they were able to attract clients from the booming Filipino community 18 miles away in Neepawa. Being open full force for all types of service on weekends also drew non-Filipino Minnedosa clients to his shop since his local competitors were closed on weekends. "We had to because we're opening the business, and we're showing the place where we're living that we can handle it," he said.
Miraculously, the pandemic didn't hurt the fledgling business. "We were blessed. We never got affected. In fact, our numbers are actually growing. Our numbers even grew between 2019 to 2020 and then 2021. Yeah, it grows every year. It's amazing!" he said. He also attributes his growth to the strong support of the Filipino community, "Seventy percent of my clients are Filipino, the rest are different races. The majority of those Filipinos I would say 50 percent are from Neepawa, and then 20 percent from all over the place."
He now makes double and triple the income in his business compared to what he was hoping to make had he moved to Alberta. Moving to Minnedosa was never his plan but fate landed him there. According to the 2016 Statistics Canada census, this small town had a population of only 2,178 and only 20 Filipinos making them the second largest visible minority after Blacks with a reported 25 people. The only other visible minorities were 10 South Asians and 10 Latin Americans.
Despite its size, Minnedosa is conveniently close enough to Neepawa and Brandon which have large Filipino populations. "Sometimes I think about, you know, why? Why me? I didn't know that. And now I realize why. Because there's so many Filipinos, a huge amount of them out there. And I think that for me, there are reasons to help out," Santis said. The business has helped him support his two sons Christian (16) and Nathan (13), as a single dad. His eldest now helps at the shop along with his staff.
When asked what advice he has for newcomers, Santin recounted his bad experience with racism and discrimination before he learned how to speak English. "The first thing that you need to learn is the language and then the culture because they might find you awkward if you don't, particularly if you're looking for a job. Doesn't matter what profession you have in the Philippines whether you're doctors, engineers, businessmen, whatever that meant, the most important thing that you need to learn here in Canada is knowing how to relate with white people. You communicate with them just like the way they communicate with you. This is the key." he explained.
He also advises Filipinos especially newcomers to drop the inferiority complex and habits some have when it comes to interacting with foreigners. "You gotta be brave too. You can't just talk with them and put your head down. You gotta have your shoulders back and hold your head high knowing that you're the same level as them. If you consider yourself below them, then you will be discouraged and won't be able to do the things you want to do," he said.