Campaign Finance Audit 2022 | Marcos return to Malacañang funded by donors linked to father's 'cronies', gov't contractors
Campaign Finance Audit 2022 | Marcos return to Malacañang funded by donors linked to father's 'cronies', gov't contractors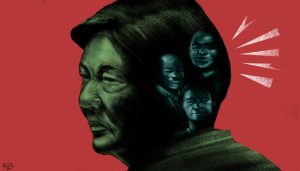 By KAROL ILAGAN and ELYSSA LOPEZ
Philippine Center for Investigative Journalism
With research by Martha Teodoro and Erika Pearl Aguilar
Illustration by Joseph Luigi Almuena
The successful presidential campaign of Ferdinand Marcos Jr. in the May 2022 elections was funded by kin of known supporters of his father, the country's late dictator and his namesake, and by today's opulent names in the real estate, retail, construction and shipping industries, among others.
They include owners of firms barred by law from making political contributions.
A total of 67 donors contributed P624.7 million to help Marcos Jr. win the presidency, based on his own declarations to the Commission on Elections (Comelec).