COAxing government
COAxing government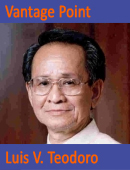 The Duterte regime ended last July, but is still in the news because of Commission on Audit (COA) reports on some of its agencies' alleged non-compliance with COA standards in 2021.
Two years after his election, in 2018, then President Rodrigo Duterte was already spewing a stream of profanities against the Commission, which turned out to be a major target of his ire. He even "jokingly" suggested on one occasion that its auditors be pushed down the stairs.
Mr. Duterte was reacting to the complaint of his close ally, then Ilocos Norte Governor, now Senator "Imee" Marcos, that the Commission had limited the cash advances of the province's municipalities affected by Typhoon Ompong only for food for the victims, and only up to P15,000.