Foreign-trained nurses can start credential assessment prior to immigration
Foreign-trained nurses can start credential assessment prior to immigration
By Michelle Chermaine Ramos
LJI Reporter
The Philippine Reporter
Registered nurses living in the Philippines and other countries abroad can now apply to get their education and credentials assessed in Canada through the National Nursing Assessment Service (NNAS) process even prior to moving here. "You do not have to have immigrated in Canada. It is actually to your advantage to start as early as possible. Those two processes can happen concurrently," said NNAS Executive Director, Gayle Waxman.
On August 23, 2022, the Philippine Consulate General in Calgary hosted a webinar for Filipino IENs (Internationally Educated Nurses) already in Alberta as well as those in the Philippines who plan to immigrate to Alberta and practice nursing.
This initiative is part of the Philippine posts in Canada's Credentials Recognition in Canada Project and was organized in partnership with the College of Registered Nurses of Alberta and the newly formed Philippine Canadian Nurses Association. "The Philippine Consulate General in Calgary has an ongoing advocacy for the easier recognition of credentials of Filipino nurses in the two provinces of Alberta and Saskatchewan which are under our consular jurisdiction," said Consul General Zaldy B. Patron.
The information session covered the processes and requirements to have their credentials recognized for them to practice here. The speakers explained how foreign-trained nurses can have their education and credentials assessed through the NNAS online portal and associated regulatory bodies across Canada.
The Philippines has been the top global supplier of nurses for the last 10 years
According to the Canadian Institute for Health Information (CIHI), in 2018 there were 36,189 internationally educated nurses licensed to practice in Canada representing 8.5% of Canada's regulated nursing supply. A 2022 ten-year review by the CIHI of the frontline healthcare providers revealed that the Philippines is the top supplier of nurses around the world. "These statistics mostly come from hospitals and do not include those working in the community," said Lucy Reyes, President of the Philippine Canadian Nurses Association.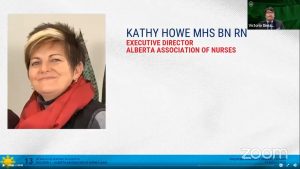 Kathy Howe, Executive Director of the Alberta Association of Nurses (AAN) remarked "We as an association really see that there is a real untapped resource with our internationally educated nurses that are in the approval process potentially struggling along a little bit through that and we want to do whatever we can to support the work going forward."
According to Statistics Canada's 2015/2016 census, the Philippines supplied 56% of the number of immigrants working in healthcare. The Caribbean came in second at only half that number at 28%, followed by India at 16%.
The 2016 Canada census shows that Alberta is home to an estimated 175,000 Filipinos, the second largest Filipino population in Canada next to Ontario. Some are registered nurses in the Philippines but are not practicing their profession in Canada, while many Filipinos working other jobs here have children back home who are taking or might be considering taking nursing courses. Consul General Patron identified them as the target audience for the information session. "It is our hope that we will eventually see more of our Philippine educated Filipino nurses working as professional nurses in Canada so they will be able to realize their full human potentials," he said.
Deputy Consul General Victorio Dimagiba emceed the session which included presentations by several resource speakers which included Gayle Waxman, Executive Director of The National Nursing Assessment Service (NNAS); Carrie Gronau, Director, Registration and Assistant Deputy Registrar at the College of Registered Nurses of Alberta (CRNA); Robyn Stewart, Associate Professor at the School of Nursing and Midwifery of Mount Royal University; Kathy Howe, Executive Director of the Alberta Association of Nurses (AAN); and Lucy Reyes, President of the Philippine Canadian Nurses Association.
The National Nursing Assessment Service online portal (www.nnas.ca)
The NNAS was conceptualized in 2012 and became fully operational in 2015. It was created by Canadian nursing regulatory bodies who developed a set of harmonized requirements that are consistent across the country for all three nursing professions (Registered Nurse, Licensed Practical Nurse and Psychiatric Nurse) and set one eligibility criteria, and that is all applicants to NNAS must have completed a nursing education program. Sometimes physicians approach them wanting to practice as nurses, but they are not eligible because applicants must specifically have graduated from a nursing program. The NNAS serves 18 regulatory bodies covering all provinces except Quebec and the Territories and are the single entry point.
Waxman says that it is generally best for a Philippine trained nurse to apply as a registered nurse. However, she is encouraging applicants to consider applying for multiple professions. "The second is the Licensed Practical Nurse profession. And that is a profession I would encourage you to get more information on. It's a very rewarding career, very broad scope of practice and it may be something that you're less familiar with. And the last one is Registered Psychiatric Nurse profession. And generally speaking, if you're interested in working in health and are educated in the Philippines, you are best to apply as an RN than to focus on mental health. That's a very specialized education in Canada and it's usually not comparable here. So if you're interested in mental health, absolutely. But your best route is through the RN," she explained.
Online NNAS application process
After opening an application on www.nnas.ca and paying the required fees, applicants will be asked to submit identification documents as per the list in the handbook on the website. They are then required to download some forms to send to third parties (e.g., educational institutions, recent employers, registration/licensing bodies, language test results where applicable) to request them to send the NNAS the required documents directly. Once all those documents are received, the NNAS will begin the review which will take 12 weeks or less. Once that's done, applicants will go back into the online portal where they can release their report and start their application right away from the NNAS website with the regulators of their choice.
Tips for applicants and contact information:
Email support@nnas.ca
Call applicant support line (855) 977- 1898 (M-F 8:00 am–4pm ET)
Follow-up if barriers are encountered and e-mail NNAS applicant liaison Tara Ferreira at applicantl@nnas.ca
Free peer mentoring with the Philippine Canadian Nurses Association
The organization of diverse nursing practitioners was formed on May 31, 2022, at the suggestion of Consul General Patron during the National Nursing Week Dinner of the Filipino Canadian nurses on May 12, 2022. The association aims to advocate for the streamlining of the credentialing process for IENs in Canada and to strengthen the image of the Filipino Canadian nurse through education, mentoring, and networking.
Because the members have various expertise in different realms of nursing, they will provide peer-to-peer mentoring for newly arrived IENs on a voluntary basis. "Together, we are hoping that we can support our colleagues to actually go through the processes. And what else can you get but someone who has experienced it firsthand to be better support for the people who are undergoing it now," Reyes said.
Contact them at https://pcnassociation.ca/
Watch the whole webinar on the Facebook page of the Philippine Consulate General in Calgary here: https://www.facebook.com/PHinCalgary