Green groups seek Duterte's accountability over inaction on envi rights
Green groups seek Duterte's accountability over inaction on envi rights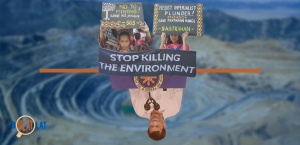 By MHIKAELA SANTOS
Bulatlat.com
MANILA – Environmental groups Center for Environmental Concerns (CEC) and Kalikasan People's Network for the Environment (Kalikasan PNE) recently reported to the United Nations the "lack of action" of Rodrigo Duterte's administration concerning environmental rights.
"Environmental rights are of utmost importance in the face of the climate crisis," said Lia Mai Torres, speaker and executive director of CEC. She added that the lack of action every year can damage the environment and the people.
The Philippines Statistics Authority (PSA) reported that from 2010 to 2019, damages due to extreme natural events and disasters amounted to P463 billion ($8.2 billion). Agriculture took the hardest toll with 62.7 percent or P290 billion ($5.2 billion), and was viewed as the most vulnerable sector due to its dependency to weather, climate, and water. This was followed by infrastructure and private/communications with 23 percent or P106 billion ($1.9 billion) and 14.3 percent or P66 billion ($1.2 billion), respectively.