Contradicting its own intentions
Contradicting its own intentions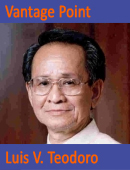 Barely two months into his six-year term, President Ferdinand Marcos, Jr. has already gone on State visits to Indonesia and Singapore, two of the Philippines' neighboring countries and fellow members of the Association of Southeast Asian Nations (ASEAN).
Malacañang lost no time in declaring both visits as "fruitful," in response to, and in anticipation of, criticism that there are far more urgent concerns domestically that need Presidential attention— that, in short, he has been traveling while the country burns.
International relations do have a bearing on domestic issues, and Mr. Marcos did bring back agreements, mostly on security and economic matters, that hopefully could help strengthen the Philippine capacity to address some of its current problems, such as the harassment by Chinese sea craft of Filipino fisherfolk in the Philippines' Exclusive Economic Zone (EEZ).