Free CELPIP Review Sessions
Free CELPIP Review Sessions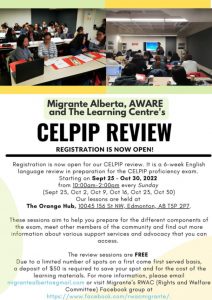 By Michelle Chermaine Ramos
LJI Reporter
The Philippine Reporter
Migrante Alberta, AWARE, and The Learning Centre are offering free CELPIP (Canadian English Language Proficiency Index Program) review sessions. Lessons will be held every Sunday from 10:00am–2pm from September 25 to October 30, 2022 at The Orange Hub located at 10045 156 St. NW, Edmonton AB T5P 2P7.
The 6-week English language review sessions are free. However, participants must register on a first come first served basis due to limited spots and a $50 deposit is required to save your spot and to cover the cost of learning materials. For more information, contact migrantealberta@gmail.com
CELPIP tests are Canada's leading English tests approved by Immigration, Refugees and Citizenship Canada (IRCC) for permanent residency, citizenship, and professional designation. The computerized exams use Canadian accents to test listening, reading, writing, and speaking skills to assess the test takers' English skills in various everyday scenarios.
Unlike the IELTS (International English Language Testing System) test which is a paper-based exam, CELPIP tests are completely computerized, done in just one sitting and results are available online in just four or five days after the test date.
To learn more about upcoming sessions and resources, visit the Migrante Alberta Facebook Page at https://www.facebook.com/migrantealberta
The Migrante Alberta Rights and Welfare Action Committee (RWAC) also has a Facebook page where they post information sessions and other events for newcomers and temporary foreign workers. https://www.facebook.com/rwacmigrante/
More information on CELPIP on the official website: https://www.celpip.ca/take-celpip/overview/
The CELPIP downloadable guidebook is available here: https://www.celpip.ca/wp-content/uploads/2019/10/Guidebook-CELPIP-Test-takers-September-2019-min.pdf