On the 50th Anniversary of Martial Law in the Philippines, Toronto community mounts Week of Action to commemorate atrocities
On the 50th Anniversary of Martial Law in the Philippines, Toronto community mounts Week of Action to commemorate atrocities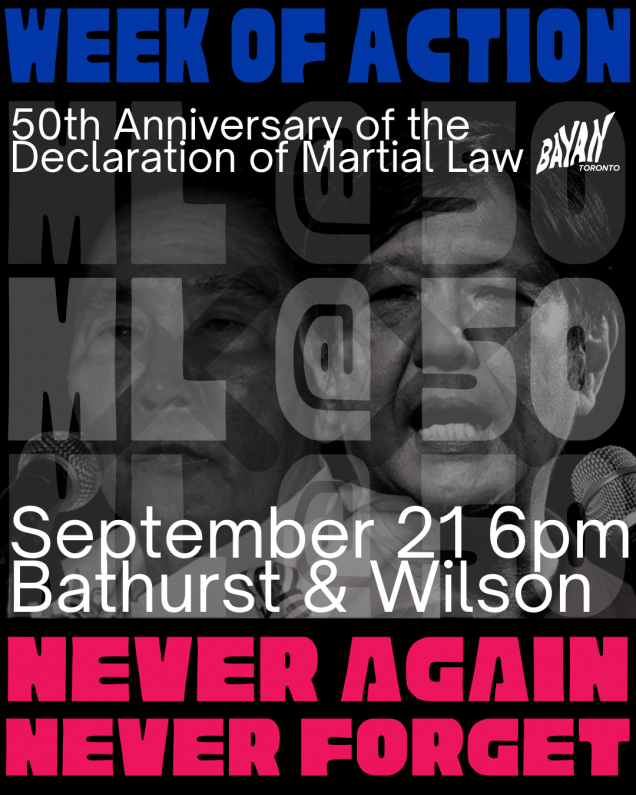 TORONTO — On September 21, the 50th Anniversary of the declaration of Martial Law in the Philippines, the Filipino community in Toronto will hold a protest to commemorate the martyrs and survivors who ousted the 20-year dictatorship of Ferdinand Marcos Sr. The protest will be held on September 21, 6:00 PM at Bathurst & Wilson Parkette (3749 Bathurst St, Toronto). Similar demonstrations are being held in Ottawa, Montréal, Winnipeg, and Vancouver.
The protest is part of a Week of Action to commemorate the atrocities of Martial Law. This is led by Filipino community organizations including Malaya Toronto, Kamalayan Konsciousness, and BAYAN Toronto. The week's activities include a concert, Kulturang Pagtatanghal: Walang Humpay na Pag-alaala sa Lagim ng Batas Militar, on September 23 at 6:00PM at Filipino Centre Toronto (4396 Sheppard Ave E). To close the week, there will be a picnic and discussion about the history of Martial Law on September 25, Sunday at 3:00PM at Earl Bales Park (4169 Bathurst St). All activities are open to the public.
Marcos Sr.'s son, Ferdinand "Bongbong" Marcos Jr., was recently elected as the 17th President of the Philippines. Human rights groups around the globe assert that he was fraudulently elected, citing countless issues with the election and a rampant misinformation campaign about the Martial Law Era. Under Martial Law from 1972 to 1986, roughly 70,000 Filipinos were imprisoned; 34,000 were tortured; 3,240 were killed. More than a hundred billion pesos (about 21 billion CAD in 2022) was plundered from the Filipino people by the Marcos family and their cronies through graft. While the Marcos family attempts to revise history and claim these were "golden years," many remember the violence Marcos inflicted upon the Filipino people and continue the struggle for national liberation and genuine democracy in the Philippines.
It was during Marcos Sr's dictatorship that the Labour Export Policy (LEP) was implemented. The LEP is a system of policies that exports thousands of Filipinos daily to work overseas. Instead of providing job opportunities in the country, the LEP subjects thousands of Filipinos to labour exploitation and family separation abroad, including in Canada. Under Marcos Jr.'s presidency, the LEP has continued and conditions continue to worsen.
(PRESS RELEASE)