World body checks out holes in Phl HR record
World body checks out holes in Phl HR record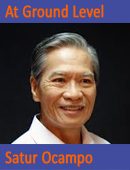 The Philippines signed the landmark International Covenant on Civil and Political Rights (ICCPR) on Dec. 6, 1966 and ratified it on Oct. 23, 1986. Adopted by the United Nations General Assembly in 1966, the treaty came into force 10 years later. By December 2018, 172 countries had ratified it.
Note that it took almost 20 years for the Philippines to ratify the treaty: It was signed after a year of the first term of president Ferdinand Marcos Sr., ratified on the eighth month of the Cory Aquino government.
Since April 2008 and every fifth year thereafter, (May 2012, May 2017 and October-November 2022), the UN Human Rights Council (UNHRC) has conducted a process of reviewing the human rights adherence to/compliance with the ICCPR of each member-state. It's called the Universal Periodic Review (UPR).