KATIPS's Canada-wide movie tour evokes memories of martial law
KATIPS's Canada-wide movie tour evokes memories of martial law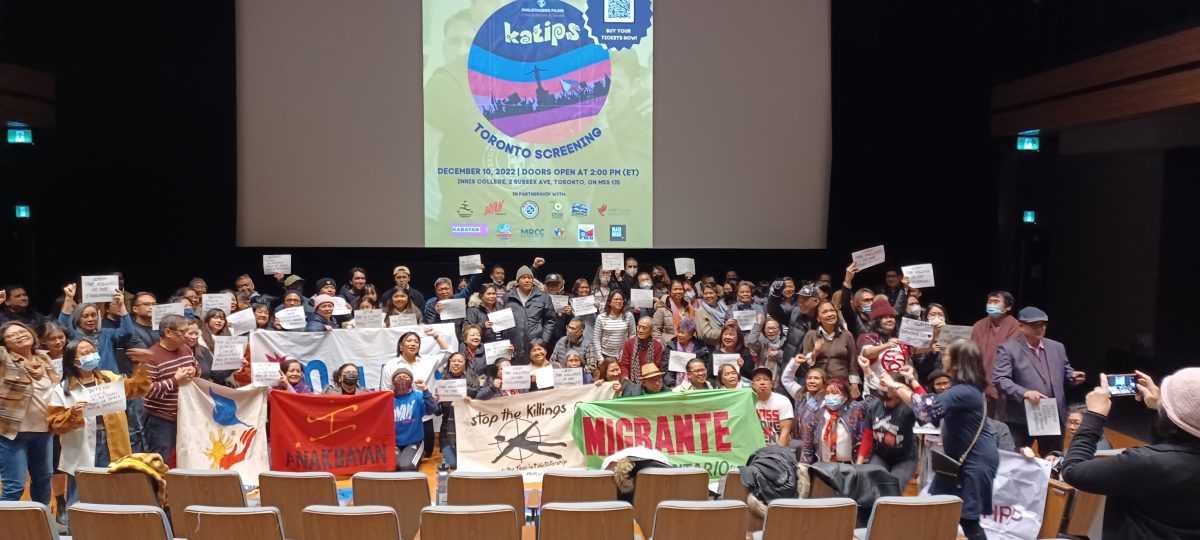 By Lui Queaño
Audiences across Canada held their breath during the torture scenes, as if they were being tortured, and wept at times while watching Katips. It served as a poignant reminder of the hardships activists and martyrs faced during the martial law period. Many young people and members of the audience who were born during martial law were moved to tears as they learned about the struggles of Filipino martyrs and activists who gave their lives in the name of freedom and democracy. The theatre fell silent as audiences tried to gather their thoughts after witnessing disturbing scenes of torture and murder during the martial law era.
The film follows Katipunan-area student activists (KATIPS) who opposed Ferdinand Marcos Sr. and martial law in the 1970s. Katips was originally a musical that was adapted into a film in 2021. Based on true stories and Vince Tanada's experience, the film sought to educate young people about martial law. The film received 17 FAMAS Award nominations, more than any other 2021 film, and won seven, including Best Picture, Best Director, Best Actor for Tanada, Best Cinematography, and Best Original Song. KATIPS is FAMAS' first musical Best Picture winner in 70 years.
The film screenings in the various cities in Canada were organized by Malaya Canada in collaboration with Bayan Canada, International Coalition for Human Rights in the Philippines (ICHRP)- Canada, Canada Philippines Solidarity Organization (CPSO), Anakbayan Canada, Philippine Advancement Through Arts and Culture (PATAC), Migrante Canada, Bicol Canada Community Organization, Kamalayan Collective, Radyo Migrante, Migrants Resource Centre Canada, Kabayan for Leni, the Philippine- Manitoba Historical Society, Manitoba Bayanihan, Friends for a Democratic Philippines, Migrante Ottawa, Anakbayan Ottawa, Ontario Committee for Human Rights in the Philippines (OCHRP), Filipinos Rising, Multi-Monde Production, Centre for Philippine Concerns (CAP-CPC) and the Filipino Parents Association of Quebec.
The film premiered in Edmonton and Calgary on November 30 and December 1, respectively. Despite the province's frigid climate, Albertans braved -24C temperatures, icy roads, and struggled downtown traffic jams to see the film. Many of the audience , including youth, migrant workers, professionals, and service providers, cried, laughed, became excited, and agitated when Anakbayan Alberta led the passionate chanting of slogans following the screening. Tanada's message was so well received and applauded that people stayed after the movie and Q&A to chat and eat pizza and popcorn. Nobody wanted to leave.
The Winnipeg held a one day screening on December 4 at the Canadian Museum for Human Rights, which also hosted the successful martial law event led by the Philippine-Manitoba Historical Society last September. Despite the short preparation time, including marketing and promotion, the Winnipeg audience turnout was impressive, and it encouraged organizers to hold another screening in the future for the Filipino community to see how films like Katips can help in the fight against misinformation, disinformation, and historical distortion.
At the screening of Katips that took place in Vancouver on December 5, "kakampink" supporters led by Treenee Lopez of Global Pinoy Diaspora came in droves. Mable Elmore, a member of the Legislative Assembly (MLA) in British Columbia, was one of those who joined them. Bayan Canada and Migrante in British Columbia collaborated with many Filipino organizations in the province, many of which attended the screening. The audience wanted more screenings to show more Filipinos the truth about martial law.
Marie Boti of Multi-Monde Production and Lita Martinez of the Filipino Parents Association of Quebec organized a sold-out screening in Montreal on December 6. Members of Montreal's Filipino community packed the screening, enjoying the film and the lively and informative Q&A session with Katips director Vince Tanada, who graciously spent time answering questions from the audience.
On December 10, Ottawa and Toronto held simultaneous screenings of a film commemorating Human Rights Day. The screening in Ottawa began at 11:00 a.m. at Saint Paul University Amphitheatre, while the screening in Toronto began at 2:00 p.m. at Innis Hall University of Toronto. During a group photo, the audience at the University of Toronto's Innis Hall expressed support for human rights defenders by calling for an end to the killings in the Philippines. The coalition also called to defend former priest and NDFP peace consultant Louie Jalandoni, who has been designated a terrorist by the Philippine government. Following the screening, there was a community discussion led by Malaya Toronto convenors and former political detainees Ed Muyot and Rick Esguerra, who shared their experiences as martial law survivors, and UPAAT President Agnes Manasan, who spoke about her experiences during the 1970s' First Quarter Storm.
Katips' Canada movie tour, which took place from November 30 to December 10 in various Canadian cities, inspired Filipino-Canadians to advocate for Philippine justice, freedom, and democracy. Following the screening's success, Malaya Canada hopes to bring more advocacy-themed films to Canada in the future.