#NoGoldenEra: In 2022, attacks, censorship loomed over PH media
#NoGoldenEra: In 2022, attacks, censorship loomed over PH media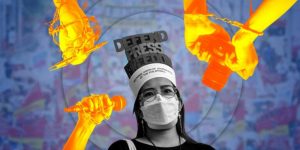 By ALYSSA MAE CLARIN
Bulatlat.com
MANILA — A group of Filipino journalists noted similar patterns of attacks among their ranks and the slow delivery of justice in the first six months of Ferdinand Marcos Jr.
The National Union of Journalists of the Philippines (NUJP) Media Safety Office recorded a total of 38 new cases since President Ferdinand Marcos Jr. took office in June 2022, and has noted the increasing weaponization of the law against dissenters and critical voices.
Just recently, Baguio-based journalist Frank Cimatu was convicted of cyberlibel over charges filed against him by former Agriculture Secretary Emmanuel Piñol in 2017 over the former's Facebook post.