Search deal with China now voided: a back story
Search deal with China now voided: a back story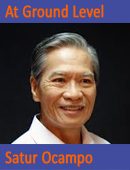 By Satur Ocampo
PhilStar
It took almost 15 years to come up.
Yet the Supreme Court ruling on June 10 – declaring as unconstitutional a tripartite agreement for Joint Marine Seismic Undertaking (JMSU), signed in 2005 and carried out for three years by the Philippine government with the China and Vietnam governments – was readily welcomed.
Why? At the start of Ferdinand Marcos Jr.'s recent three-day state visit to Beijing, Chinese President Xi Jinping told him that China was ready to "resume oil and gas talks," which had been initiated with the Duterte government in 2018 but unilaterally terminated by the latter in June 2022 just before his administration ended. "Constitutional limits and sovereignty issues" were the reason, said Teodoro Locsin Jr., the foreign affairs secretary then.