The Philippine Reporter @34
The Philippine Reporter @34
Love Letter to TPR@34
A week ago, a senior member of Migrante BC who had lived and organized caregivers in Toronto in the mid-1990s, showed me her photo album. With the  photos were also clippings from the TPR in the 1990s. I didn't realize that TPR was already around at that time.
I met TPR in the mid-2000s when I visited Toronto from Vancouver. I felt that it was the only Filipino newspaper that not only featured the events and people in the various Pinoy communities in Canada, but also respected columnists and events in the Philippines that kept overseas Filipinos aware of what  was happening back home.  That initial impression has not changed.
I believe it is this kind of newspaper publishing that made it possible for the Thomas Fisher Rare Book Library  in Toronto to decide to house the TPR, take care of it,  and make it accessible to everyone — researchers, students, the Filipino community, etc.  The TPR would always have a home. As a retired librarian and archivist, having the TPR as part of the collection of the Rare Book Library is proof that our stories as a Filipino community are worth preserving.
TPR in its 34 years of reporting and publishing continues to be the voice of the community. It is a witness and a participant in the history of organizing in the Filipino community in Canada. Mila and Hermie, owners and publishers, have made sure there will be more anniversaries to come.
TPR gave me a wider opportunity to share my stories and be part of TPR. Maraming salamat!
We get our TPR copies by mail. Copies are dropped off at the  most popular Filipino store along Fraser St. and there are no leftover copies! We love our TPR copies. Please keep on sending them to Vancouver! We love the TPR!
— Erie Maestro
Retired librarian and archivist
---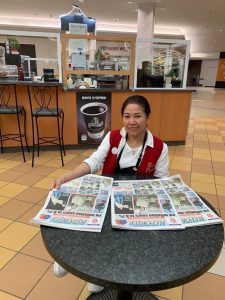 Lucia Salazar, a volunteer for Malaya Canada who has been distributing The Philippine Reporter in the West Island, Montreal to Filipino seniors and community leaders.  Her feedback is that they are eagerly awaiting a copy of the paper as they learn things about the Philippines. It is professionally done and entertaining.