3 ways to unlock the power of food to promote heart health
3 ways to unlock the power of food to promote heart health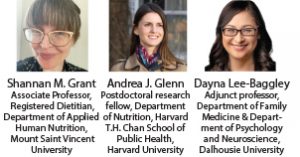 Your diet — the foods and drinks you eat, not short-term restrictive programs — can impact your heart disease risk. Evidence-based approaches to eating are used by dietitians and physicians to prevent and treat cardiovascular (heart) disease.
National Nutrition Month, with its 2023 theme of Unlock the Potential of Food, is an ideal opportunity to learn more about these approaches and adopt more heart-friendly behaviours.
The Canadian Cardiovascular Society (CCS) Clinical Practice Guidelines recommend three main dietary patterns for lowering heart disease risk: the Mediterranean Diet, Dietary Approaches to Stop Hypertension (DASH) and the Portfolio Diet.