Eulogy for Luis Teodoro, outstanding example of exemplenary moral fortitude, excellent writing skills
Eulogy for Luis Teodoro, outstanding example of exemplenary moral fortitude, excellent writing skills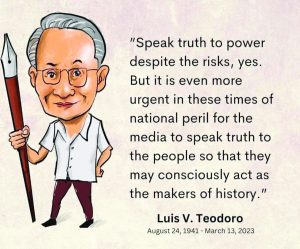 March 17, 2023
By Ernesto "Butch" Hilario
First of all, my condolences to the family, close friends and colleagues of Luis Teodoro on his passing.
I first met Luis in early 1978, when I was still employed as writer-researcher by the Metro Manila Commission or what is now the MMDA. My job entailed writing project proposals that would be implemented by the MMC that was headed by Imelda Marcos. Someone informed me, I don't remember now who, that the Philippine Center for Advanced Studies at UP, or PCAS, was looking for writers. I immediately applied  for the job at the Publications Office headed by Luis. Not knowing who I was from Adam but perhaps already aware that I was a former political prisoner like him, he handed me a booklet by Marcos Sr.—it was not Today's Revolution: Democracy,  the first book published under the Marcos name but probably the second—and asked me to review the booklet, which I did. I remember calling the book an unabashed apologia for martial law and submitted the review the next day.  He then told me I could start work for the office starting in April 1978.
The PCAS office was located within the Asian Center complex in UP and was headed then by Joe Almonte who later became the National Security Adviser of President Fidel Ramos. But it was Adrian Cristobal who was already the Presidential Spokesman by that time who called the shots at PCAS.
It was during my first day of work that I met Conrad de Quiros and two other staff writers. Luis apparently did not take kindly to the outputs and the work attitude of the two other staff writers who resigned a few months later. That left the office with just three writer-editors, so he recruited a few others later on: Bobby Roldan, Aida Santos-Maranan, and Jobart, who did not stay long. Bobby Roldan recently passed on while Conrad de Quiros has not recovered from a stroke in 2014.
The Publications Office was responsible for putting out a regular scholarly journal. Apart from this, the office also drafted speeches for  Marcos and Imelda, and prepared weekly briefing papers for Marcos with inputs or analysis of current events and developments from scholars and experts in various fields.
In 1979, PCAS gave way to a new office called President's Center for Special Studies, or PCSS, whose office was located in New Manila. It was headed by Adrian Cristobal with Luis as the head of the Writers' Group until it was abolished in the aftermath of EDSA People Power in February 1986.
And so the question that Luis and the others who joined PCAS and later the PCSS had to grapple with is why ex-political  detainees worked for the Marcos regime and directly helped in propping it up until its downfall in 1986.
Luis answered this early on during informal discussions in the office and occasional nights out. Because we had limited choices during that period, and just like others had to earn income some way or another to keep body and soul together. At the time, there were few outlets for writers since media was tightly controlled.
We therefore had to navigate tricky shoals at the time, writing out-and-out propaganda to earn a living but not forsaking political principles and going all-out in publicly defending the Marcos regime at every opportunity. We did get brickbats from even some comrades and friends that we had become traitors to the cause, but that was to be expected—and even understandable.
Luis was perhaps the best example of one who never wavered in his political beliefs until his last breath, as can be seen in all his writings from 1986 onwards. I am proud to have worked with him and learned valuable lessons in life and in the craft of writing from him since 1978. Contemporary Philippine journalism may have lost one of its best writers, but Luis Teodoro serves as an outstanding example of excellent writing skills and exemplary moral fortitude that future generations of journalists and writers can very well learn from.