Legacies of Filipino Activism in Toronto Exhibition
Legacies of Filipino Activism in Toronto Exhibition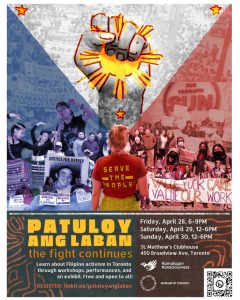 Patuloy Ang Laban (The Fight Continues):
TORONTO —  From April 28th to 30th, Myseum of Toronto will be hosting Kamalayan Konsciousness in this year's Intersections festival, a city-wide celebration of art, culture, and community at St. Matthew's Clubhouse,  450 Broadview Ave, Toronto, ON M4K 2N1 . In an exhibition titled Patuloy Ang Laban (The Fight Continues), with contributions from Anakbayan Toronto, Migrants Resource Centre Canada, Migrante Ontario, and Malaya Movement Canada, Kamalayan Konsciousness celebrates the long legacy of Filipino grassroots organizing in Toronto.
During the three day exhibition, participants will have the opportunity to explore and learn about the Filipino diaspora in Canada, colonialism and resistance in the Philippines, and the history of Filipino activism in Toronto through artwork and ephemera from grassroots organizers and community activists. This is a chance for the public to engage with and learn from grassroots organizing and local activists through cultural performances, as well as a guided art-making session.
Participants are also encouraged to connect with each other over shared meals, provided by Manila Sentro. For many children of migrants (or migrants ourselves), it is impossible to separate our identity and culture from the politics of food. Food is beyond being just a way to (re)connect with one's culture but also as a love language, central to connecting and bonding to family and community. By sharing meals with one another, all participants are invited to open space for discussion around land, life and community.
Patuloy Ang Laban (The Fight Continues) is one of six community-created experiences as a part of Myseum's Intersections, a free city-wide festival that brings community-created exhibitions and events to life. Myseum's Intersections festival is funded by the Government of Canada. Myseum of Toronto is made possible with the generous support of Diane Blake and Stephen Smith.
(PRESS RELEASE)