Nick Pichay: The playwright-cum-lawyer celebrates the Filipinos' indigeneity in the libretto, "Lapulapu, Ang Datu ng Mactan"
Nick Pichay: The playwright-cum-lawyer celebrates the Filipinos' indigeneity in the libretto, "Lapulapu, Ang Datu ng Mactan"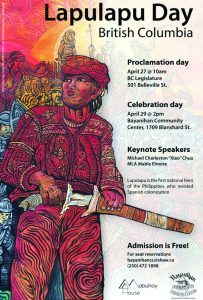 By Maria Veronica G. Caparas
The year 2021 marked the Philippines' quincentennial or 500-year relationship with Spain – a relationship that made the Philippines the capital country of Catholicism in Asia. Through Proclamation No. 1128, then-Philippine President Rodrigo R. Duterte declared April 27 as a special day to commemorate the Filipinos' Victory at Mactan vis-à-vis the Battle of Mactan between Lapulapu and Magellan in 1521.
Two years later, the BC (British Columbia) Government – through the Office of Parliamentary Secretary (Anti-Racism) MLA Mable Elmore, sponsors a bill with the Legislative Assembly of British Columbia proclaiming April 27 as Lapulapu Day. A group of artists with the Bayanihan Centre in Victoria, BC will stage on April 29 an excerpt of Nicolas B. Pichay's "Lapulapu: Ang Datu ng Mactan" in support of MLA Elmore's bill.
How did the Philippines prepare for commemorating the Victory at Mactan on April 27, 2021?