Eric Tigley on finding his identity and lighting the path for Filipino youth
Eric Tigley on finding his identity and lighting the path for Filipino youth
By Patricia Gabrielle Dolor
The Philippine Reporter
Eric B. Tigley always loved to create stories. Growing up with many of his cousins living right above him, Tigley was the youngest – and he found it was easy to get lost in the group, and almost feel, alone. So, he turned to escapism that included comics, toys, and lots of TV. He first expressed himself visually when he carved an image of Batman onto the face of his parents' piano. When Tigley got to grade one from kindergarten – a year that really steered where he was heading – he drew images of Optimus Prime, or other transformers so he can make friends with other kids. Art became something that identified him.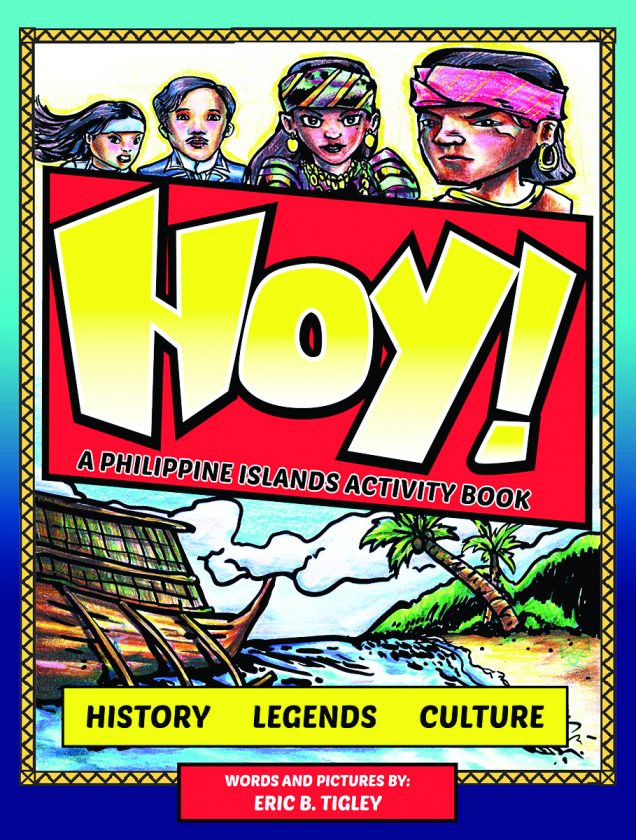 As a storyteller, artist, teacher/educator – Tigley, having been  raised in Jane and Finch, a neighbourhood located in the northwest end of Toronto, Ontario – in the district of North York, Tigley grew up immersed in diversity. People came from Jamaica, Ecuador, Ghana, El Salvador, South Americas, and many more.
Tigley grew up a little disconnected with his heritage and overall identity, and didn't identify as Filipino until much later in high school when he met other Filipinos from Scarborough, and East York, and heard tagalog being spoken.
"Once I met these people, it's like the whole world opened up a bit more," says Tigley. He found himself more in touch with the community through Earl Bales Park Community Centre, and started speaking more with first generation Filipinos – Tigley became more active in finding pieces of himself as a Filipino and becoming more active in his community.
"It's something that I navigate with a lot, because I'm still trying to figure it out – and a lot of my work is a response to it because I don't know what it is yet," answers Tigley after I ask him how his identity as a Filipino man and his overall connection with the world shape his work – in whatever work he may be doing.
One way he's been trying to figure it out is by releasing a Filipino activity book, titled "Hoy! A Philippine Islands Activity Book" – a 100 plus page and counting dedicated to the history and culture of the Philippines.
It included many different puzzles, colouring pages, mazes, and you can even practice Baybayin script writing! This amazing project, aiming to educate and entertain, came about the inspiration of Tigley not having resources himself to learn more about the Philippines as he was growing up. His exposure to common Filipino culture was extremely limited. Through creating this activity book, Tigley has been able to navigate many different communities through it – and from an artist perspective – Tigley always mentions that he's no expert.
Growing up, Tigley's parents participated the Sinulog Festival, a big festival in Cebu. Tigley, as a kid, participated in the dance since he was a kid and would always do it every year. He also had a book about Filipino legends, and those things were his little windows to the Philippines. But when Tigley created more art and enacted more learning – he discovered baybayin script, tattooing in the Philippines, and much more about our rich culture. He learned many of the ideas and history through the Kapisanan Philippine Centre for Arts and Culture that was previously located in Kensington Market. Through them, he was able to take lessons and eventually teach lessons at his time there. He really felt and learned how vibrant the Filipino culture is.
Tigley, ultimately, was thinking about targeting the younger generation when creating the activity book. He wants to make sure that the kids have the foundation of the history of the Philippines, and to ensure they are never afraid to be their most authentic, Filipino self.
Tigley says, "I figured if they have a foundation, then the argument that nobody ever taught them doesn't exist."
Eric Tigely is an artist and educator that is paving the way for Filipino youth. Currently, he is teaching a Filipino history class where they will be actually doing a Sinulog dance in May. He teaches at a school in the Catholic board. And everybody is included in the Sinulog festivities. Students from Uganda are part of the dance – and that's one moment when Tigley realized how beautiful, how vast, how vibrant, our culture truly is – and how our storytelling is so rich, you can't help but be amazed.
And he knows the future of the Filipinos and the diaspora is much brighter than where it once was.
When I finally asked him what his message is to young Filipinos, he says, he wants them to love themselves and embrace their identities. "Once we love ourselves, I really don't see anything we can't do," says Eric B. Tigley.