Philippine Studies Group at York U to host Karmina Constantino on May 15
Philippine Studies Group at York U to host Karmina Constantino on May 15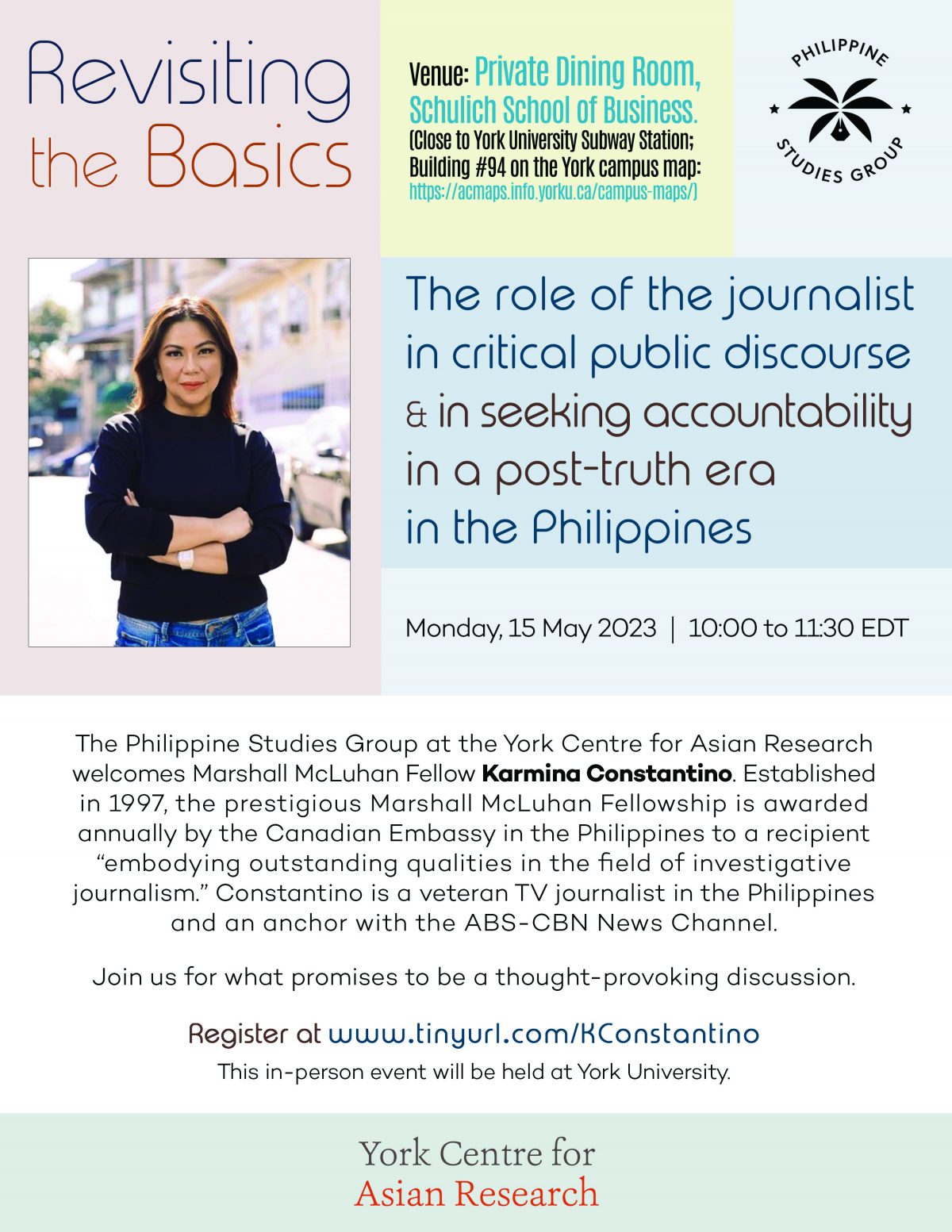 Karmina Constantino is a veteran television journalist in the Philippines and an anchor with the ABS-CBN News Channel. She is also the 2022-23 Marshall McLuhan Fellow and will visit York University as part of a cross-Canada speaking tour sponsored by the Canadian Embassy in Manila. At York, she will speak about the role of the journalist in critical public discourse and in seeking accountability in a post-truth era in the Philippines.
Established in 1997, the prestigious Marshall McLuhan Fellowship is awarded annually by the Canadian Embassy in the Philippines to a recipient "embodying outstanding qualities in the field of investigative journalism."
ABC-CBN News reported that Constantino received the McLuhan fellowship from the Chargé d'Affaires of the Embassy of Canada, Colin Townson, who lauded her for displaying "unflinching commitment to speak truth to power, admirable consistency in ferreting out the most complicated issues of the day, and a stirring courage to ask the toughest questions."
At York University, Professor Ethel Tungohan heads the Philippine Studies Group. "We are very pleased to have the opportunity to host Ms. Constantino at YCAR. Her commitment to her craft and her promotion of responsible journalism is remarkable. She is one of the Philippines' top journalists, commanding tremendous respect across the Philippines and among members of the Filipino diaspora in Canada.  We look forward to learning about how Ms. Constantino navigates the oftentimes conflicting demands wrought by her profession, especially during politically turbulent times" said Tungohan.
The event with Karmina Constantino be held at York University at 10am on Monday May 15th.
Venue: Private Dining Room, Schulich School of Business. (Close to York University Subway Station; Building #94 on the York campus map: https://acmaps.info.yorku.ca/campus-maps/).
All are welcome to attend. Please register at: www.tinyurl.com/KConstantino.
For more information, contact the Philippines Studies Group at philippinestudiesgroup@yorku.ca.