Ethnic press council honours two imprisoned Iranian journalists with awards
Ethnic press council honours two imprisoned Iranian journalists with awards
On World Press Freedom Day
By Mila Astorga-Garcia
The Philippine Reporter
TORONTO — Niloofar Hamedi and Elaheh Mohammadi, women journalists still imprisoned in Iran because of their courageous journalistic work,  were among those honoured with  awards at the World Press Freedom Commemoration by the National Ethnic Press and Media Council of Canada (NEPMCC) last May 19, 2023 at the Toronto City Hall.
Receiving their awards plaque and medals on their behalf was Lily Pourzand Pourzand, an Iranian-Canadian social worker and women's rights advocate, whose own journalist father, Siamak Pourzand, was arrested, tortured and imprisoned for many years in Iran that upon release, he became gravely ill and died a tragic death.
The following speech of Dr. Muhammad Tajdolati, NEPMCC Ombudsman, tells the sad tale of repression against journalists seeking the truth in Iran:
Dear guests, dear colleagues and dear friends,
Thank you so much for coming.
As you all know, the Women, Life, Freedom revolutionary movement has continued in Iran since last September.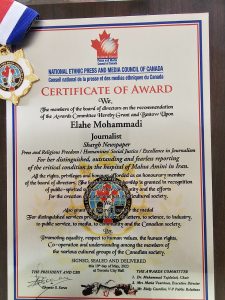 During the past months, more than a thousand young protesters for freedom were brutally killed, shot in the eyes, arrested, imprisoned, tortured, and executed by the dictatorship regime in Iran.
Three young men were hanged a few hours ago because they protested in the streets for freedom.
Many journalists have been arrested and imprisoned, including these two young journalists. The National Ethnic Press and Media Council of Canada decided to recognize their courage for doing their job.
Niloofar Hamedi and Elahe Mohammadi have been imprisoned since the beginning of the current movement because Niloofar Hamedi published the photo of Mahsa Amini in the hospital when she was bitten and killed by the moral police of Tehran and Elahe Mohammadi, arrested because she interviewed the parents of Mahsa after she died.
The journalistic works of two young journalists were the starter of the Women, Life, Freedom movement.
The history of the Iranian journalists fighting for freedom is long and tragic.
Two weeks ago was the thirteenth anniversary of the tragic death of one of the most well-known Iranian journalists, Siamak Pourzand.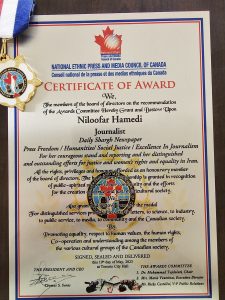 At the beginning of my career as a very young journalist, before the Islamic revolution, I had the chance to know him and respect him as a role model for my generation.
Siamak Pourzand was arrested in early 2000 for doing his job. He was in prison for many years. He was tortured and forced to confess to the activities he never did.
After many years of jail and forced televised confession, and a grossly unfair trial, he was sentenced to 11 years imprisonment.
Siamak Pourzand, a veteran journalist and former prisoner of conscience, was infirm and unable to bear further indignity. When he was released from prison and under the surveillance of the security forces led to chronic ill health, he let himself fall from a sixth-story balcony without even the solace of his family around him at the age of 80.
I am telling you this brief story because I want to ask an Iranian Canadian woman who is a Social Services leader with over a decade of leadership practices in the Violence Against Women sector. She is an Expert in Gender Equality. And she is the daughter of Siamak Pourzand, the Iranian journalist I briefly talked about.
I am pleased to invite Lily Pourzand to come on the stage and receive the awards on behalf of two young journalists in prison in the Islamic Republic of Iran.
Please welcome Lily Pourzand.