Question Everything | Ship of State
Question Everything | Ship of State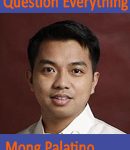 By Mong Palatino
In the opening pages of Jose Rizal's El Filibusterismo, the steamer Tabo was likened to the ship of state where the presence of the ilustrado classes at the upper deck and the indios at the lower deck alluded to inequality in society. The Tabo was slow like the progress of the country under Spanish colonialism. Adopting Rizal's creative way of analyzing the state of affairs, we can say that the present-day Tabo is represented by several ships that made the headlines over the past months.
First, the MT Princess Empress which sank in the waters off Naujan, Oriental Mindoro, and caused a massive oil spill in the area and nearby provinces. The oil tanker was carrying 800,000 liters of industrial fuel when it sank due to engine trouble. The oil spill destroyed marine habitats and undermined the livelihoods of residents in coastal communities and tourism destinations. Later, it was revealed that the ship owner lacked permits, the government was criticized for being slow in responding to the disaster, and the oil slick reached the shores of Palawan.
Another tragedy involved MV Lady Mary Joy 3 which caught fire and killed 33 passengers in Basilan. Reports described it as a "floating inferno" after the ferry carrying more than 200 passengers en route to Sulu was hit by a fire in the evening. It was a stark reminder of the precarious state of maritime travel in the country.