Calling out FM Jr. on HR violations
Calling out FM Jr. on HR violations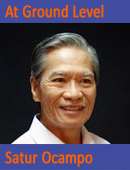 Almost a year after taking office, the new administration hasn't taken any perceptible step towards making decisive, positive changes in the country's dismal human rights situation. This is a major long-festering national malaise that Ferdinand Marcos Jr. seems to be determined to ignore.
Let's start with the media situation.
"Attacks on journalists which escalated during the six-year presidency of Rodrigo Duterte have not let up since Ferdinand Marcos Jr. [took over]." Dozens of press-freedom violations – with 75 cases from June 2022 to April 2023 – have been recorded, mostly under the new administration. Moreover, "systematic red-tagging" of journalists persisted, targeting both mainstream and alternative media organizations: ABS-CBN, GMA News network, Philippine Daily Inquirer, Rappler, Bulatlat and Northern Dispatch community newspaper, as well as the National Union of Journalists of the Philippines (NUJP).