Artist talk with Leeroy New, multidisciplinary artist
Artist talk with Leeroy New, multidisciplinary artist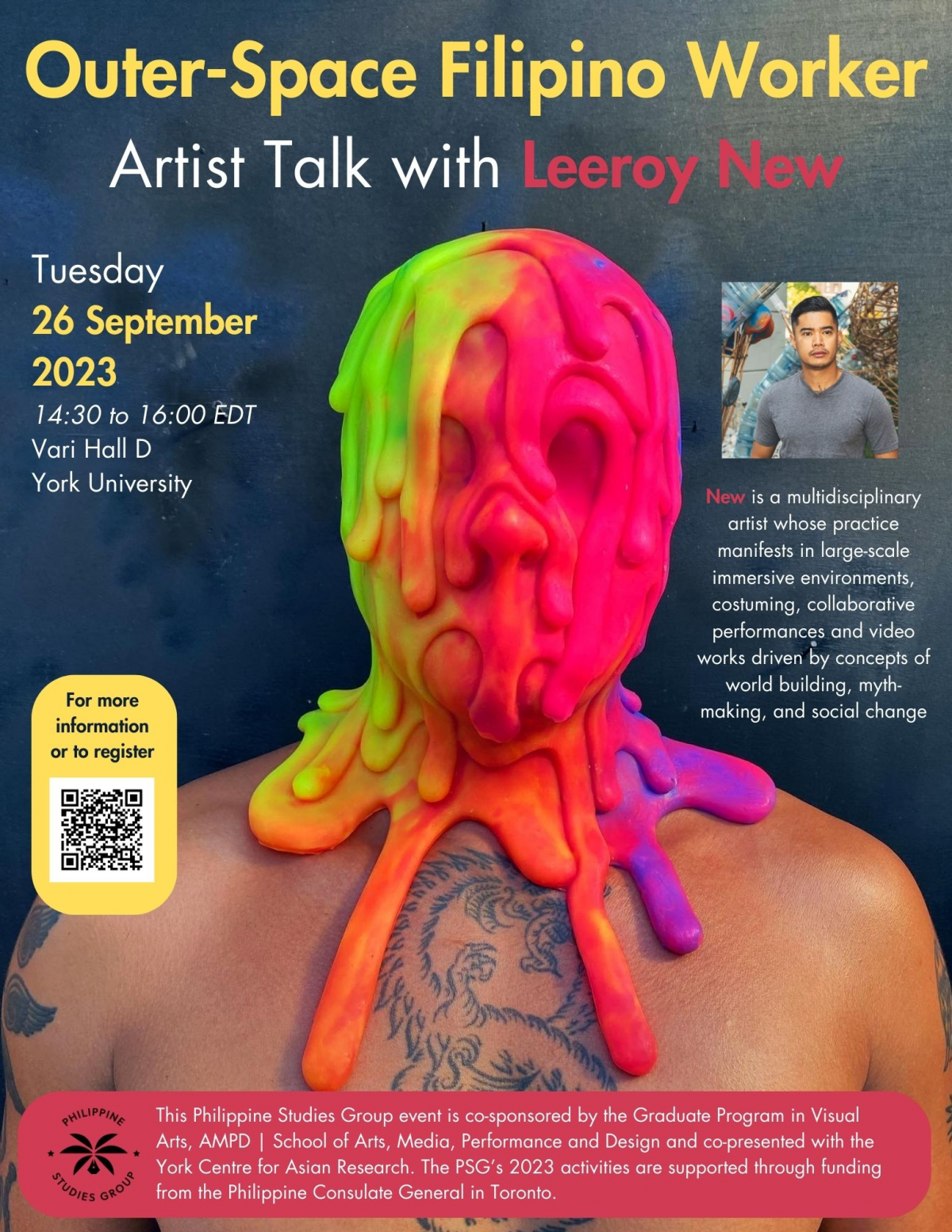 Outer-Space Filipino Worker
On September  26, 2023
Vari Hall D, York University 
Leeroy New (b. 1986, General Santos City) is a multidisciplinary artist whose practice manifests in large-scale immersive environments, costuming, collaborative performances and video works driven by concepts of world building, myth-making, and social change. His use of natural materials, found objects and assorted discards transformed into representations of a specific speculative future intersects Filipino contemporary life, pre-colonial mythology, and environmentalism. This eventually led to the creation of the Aliens of Manila project, an ongoing multi-platform collaborative series which documents "alien" bodies inhabiting Manila's colorful yet often harsh streets as well as beyond its shores.
Since 2008 New has been invited to present his unique brand of Filipino sci-fi across North America, Australia, Europe and Asia. His work has been exhibited at the Palais de Tokyo, Biennale of Sydney, Honolulu Triennale, Somerset House, and he was selected to build an installation for Burning Man 2020. He had recently completed a residency with the Fukuoka Asian Art Museum and a commission for the Bentway Conservancy in Toronto, Canada.
New is a recipient of the Ateneo Art Awards in 2008, the Cultural Center of the Philippines 13 Artists Awards in 2012, and Asian Cultural Council arts grant in New York in 2015. In 2011 his  sculpted silicone bustier was featured in Lady Gaga's "Marry the Night" music video.
This Philippine Studies Group event is co-sponsored by the Graduate Program in Visual Arts, AMPD | School of Arts, Media, Performance and Design and co-presented with the York Centre for Asian Research. The PSG's 2023 activities are supported through funding from the Philippine Consulate General in Toronto.
PRESS RELEASE