EDSA People Power Day: Removed from list of public holidays
EDSA People Power Day: Removed from list of public holidays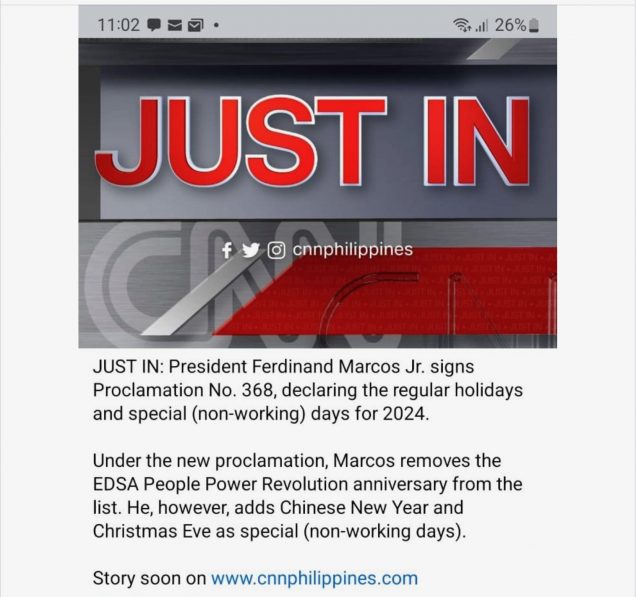 Letter to President Ferdinand Marcos, Jr. on the removal of EDSA People Power Revolution from the list of public holidays in the Philippines
October 14, 2023
H.E. FERDINAND R.
MARCOS JR.
President Republic of the
Philippines
Malacañang Palace, San Miguel, Manila
Email: pace@op.gov.ph/ info@pms.gov.ph
Dear Mr. President:
I write as a former member of the People Power Commission, created under Executive Order No. 82, s 1999 to institutionalize the legacy of the 1986 EDSA People Power Revolution, and more so, as a witness to the struggle of our people against the oppression of Martial Law, bearing a moral obligation to share the truth and to remind the Filipino people of the REAL message of the EDSA People Power.
With the release by Malacañang of Proclamation No. 368 listing down the regular holidays and special days for 2024, I am aghast at the exclusion of 1986 EDSA People Power Revolution anniversary as among the holidays to be commemorated.
A day in February 1986 that the world witnessed and celebrated a people peacefully rising to overthrow an oppressive dictatorship is now rendered into a mere footnote as part of our history. No longer recognized nationwide with such importance as we accord to other national holidays.
I am fearful of the historical revision that is imposed on the youth to whitewash the abuses and human rights violations of the past dictatorship.
Celebrating the 1986 EDSA People Power Revolution anniversary as a nationwide holiday is a perfect opportunity to remind our people of their aspiration for change – a change towards a free and truly democratic nation. A change that at times can seem lost to our people.
Mr. President, you have advocated for the unification of our country. But that cannot be done if we ignore the lessons of the past and of the aspirations of our people that the 1986 People Power Revolution celebrates.
Neither can there be unification without justice to all those who have suffered under Martial Law.
The message of the EDSA People Power Revolution reminds us that we should forever be vigilant in preserving the gains of EDSA – the freedom and democracy we enjoy, that are surreptitiously eroded by actions done in the name of national security.
Erasing this event from the consciousness of our people and assigning it to the mere dustbin of historical footnotes is an insidious way to keep justice unattainable to all who have sacrificed so much in the fight against the past dictatorship, to keep our people complacent in the face of human rights violations and to keep our youth forever ignorant of the lessons of the past.
I stand against such acts of injustice to remind the administration that when Filipinos unite in prayer and action, the spirit of Edsa will live on and the people's cry of "Never Again" will resonate again and again!
God bless us all.
LOURDES LL. PIMENTEL
Former Commissioner EDSA People Power Commission