Why Filipinos should stand with the Palestinian people
Why Filipinos should stand with the Palestinian people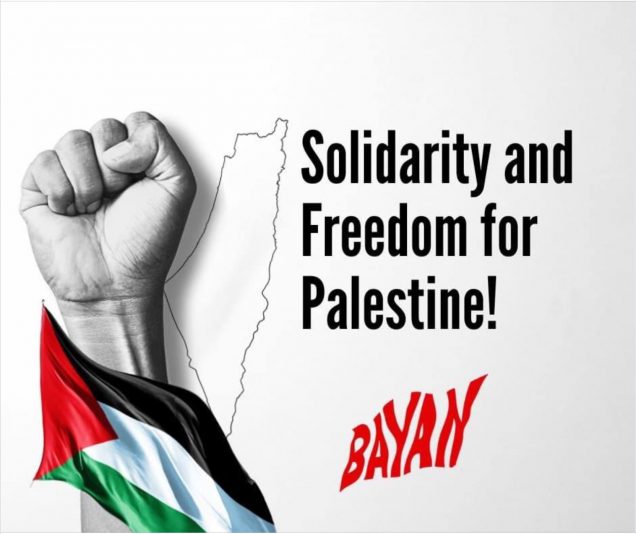 Mahal naming kababayan,
There is an ongoing humanitarian catastrophe in Gaza today – a genocide that has claimed the lives of more than 8,000 civilians, more than 3,500 of whom are children. Ordinary people, young and old, health workers and journalists, entire families have been wiped out, due to Israel's deadly bombings. It has bombed homes, hospitals, schools and places of worship. It has cut off electricity, water, internet and other communications services. It has denied Palestinians humanitarian aid including food, medicine and other basic needs by closing all entry points to Gaza. The daily bombings have taken place for more than 3 weeks now and a ground invasion has begun.
The crisis in Palestine has deep historical roots and did not happen just on October 7, when the forces of Hamas and the Palestinian Resistance attacked Israel. Palestine has been under a brutal Israeli occupation for the last 75 years and Gaza has been subjected to the worst forms of collective punishment for many years now.
Before Israel came into being in 1948, Palestine was a land under the Ottoman Empire and then the British Mandate. Here, Jews, Christians and Muslims lived together as their holy places were located in Jerusalem. It was in 1948 that the Zionist movement, through force of arms, expelled the Palestinian people from their lands and established what is now known as the state of Israel. Zionism is a movement and ideology that seeks to establish a nation for all Jews. To accomplish this, they engaged in the ethnic c
leansing of Palestinians from their homeland. The establishment of Israel was supported by the US and UK as this provided support for imperialist interests in the Middle East which included huge oil reserves.
Gaza is a narrow strip of land, separated from the larger West Bank, near the sea and surrounded by walls. It is like an open-air prison or concentration camp, where Israel controls what goes in and out of the area. Its population is more than 2.2 million, making it one of the most densely populated areas in the world. Israel's continued occupation of Palestine has led to more land-grabbing, killings and arrests of Palestinians. These oppressive conditions led them to engage in armed and unarmed resistance against Israel. This is no different from the revolution waged by the Katipunan against Spanish colonialism, or the struggle waged by Macario Sakay and General Antonio Luna against US colonialism.
Instead of addressing the just demands of the Palestinians to return to their lands, Israel intensified its war on the Palestinians, with backing from the US, UK and other imperialist powers. What is happening in Gaza now is genocide. It violates international humanitarian law. It is the wholesale violation of the rights of the Palestinian people. It is utterly unacceptable.
There were Filipinos reportedly killed in the fighting on October 7. There were Filipinos also reported as captives taken to Gaza, and cannot be safely released because of the constant bombings carried out by Israel. Important information have now started to surface that many Israeli casualties on October 7 were due to Israel bombing and shooting at vehicles and houses of their own people, as the IDF fought the Palestinians. Israeli survivors have spoken about this.
The issue now is not between Israel and Hamas, but between Israel and the entire Palestinian people. In the face of a brutal occupation, the Palestinian people have a right to resist by all means necessary, including waging armed struggle. This is not terrorism. Meanwhile, nothing can justify the indiscriminate bombings and killings of civilians in Gaza and the West Bank. This is not a religious conflict as many Jews all over the world and within Israel itself have opposed the occupation and ongoing genocide.
It is very alarming that the Philippine government supports Israel's occupation and genocide. The Philippines is the third biggest buyer of Israeli arms from 2018-2022, with purchases amounting to $275 million or more than P15 billion, at a time Filipinos were reeling from poverty. These weapons were then used to kill Filipinos in the fake "drug war" and in counter-insurgency operations. Israel's profits from these arms sales are used to support occupation and genocide against the Palestinian people. Recently, the Philippines abstained from voting on a crucial United Nations resolution on the issue of the humanitarian crisis in Gaza. The Philippine stand is influenced by the US and Israel which both voted NO to the resolution.
There are many similarities between Filipinos and Palestinians. We both have a history of fighting colonialism. We both aspire for a society where there is genuine development, peace, freedom and democracy. We both are opposed to human rights violations. But there can be no genuine peace without justice. There can be no freedom and democracy under foreign occupation and aggression.
As Filipinos and as human beings, we need to make a stand and let our voices be heard. With our common colonial history and with the ongoing massacre of thousands in Gaza, we have a duty to stand with the Palestinian people. We should rightly condemn the ongoing genocide against Palestinians. We should call for a stop to the bombings in Gaza and the targeting of civilians. We should support the call for the opening of border crossings so that urgent humanitarian aid including food, medicines and fuel could reach the Palestinian people. We should likewise call for the safe release of all Filipino and Israeli captives in Gaza and the immediate release of all Palestinian prisoners held in Israeli jails. We need to call on the Marcos regime to strongly condemn the killings of Palestinians and to ensure the safety of Filipinos in Gaza, Israel and neighboring countries. Filipinos would not have to work in dangerous countries if they only had decent jobs in the Philippines.
Let us uphold the right of the Palestinian people to be free and to return to their homeland. This is the only long-term solution to the crisis. In solidarity with struggling people worldwide, let us fight for a world with peace based on justice, genuine freedom and democracy.
Long live the Palestinian people! Long live the Filipino people!
BAYAN
October 29, 2023