'Care Activism' book celebrated with excitement
'Care Activism' book celebrated with excitement
By Leny Rose Simbre
TORONTO — The celebration for the release of Dr. Ethel Tungohan's groundbreaking book, "Care Activism: Migrant Domestic Workers, Movement Building, and Communities of Care" was held at Another Story Bookshop last Nov. 8.
The event transformed the bookstore at 315 Roncesvalles Ave, Toronto ON M6R 2M6, into a hub of intellectual exchange, activism, and cultural appreciation, drawing a vibrant crowd expressing appreciation and support for the book and its significance..
Emceed by Krittika Ghosh, the event featured an exceptional lineup of speakers, each offering unique perspectives on migrant justice and community empowerment. The stage came alive with the insightful words of Mithi Esguerra, Pinky Cañeda Paglingayen, Jo and Althea from Kwentong Bayan, and Dr. Jessica Ellen Ticar.
Filipino snacks courtesy of Tita Flips, brought a taste of the Philippines to Toronto.
The event wasn't merely a book launch; it was a celebration of unity, activism, and the power of community. Attendees immersed themselves in the profound themes explored in "Care Activism," examining the challenges faced by migrant care workers and the importance of solidarity and community of care in creating positive change.
The success of the book launch and celebration of "Care Activism" stands as a testament to the resonance of Dr. Ethel Tungohan's work and the dedication of the Toronto community to fostering a more just and equitable society.
To secure a copy of the book, please visit UI Press | Ethel Tungohan | Care Activism (uillinois.edu)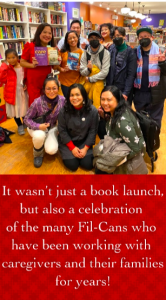 Photo credits: Jennilee Austria-Bonifacio and  Krittika Ghosh