Pinoys will risk being undocumented if they lose legal status
Pinoys will risk being undocumented if they lose legal status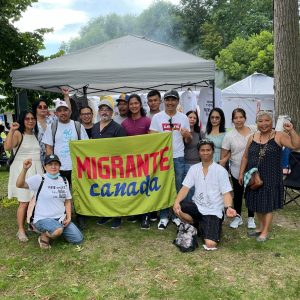 By Michelle Chermaine Ramos
LJI Reporter
The Philippine Reporter
Following the July 17, 2022, protest in front of Premier Francois Legault's office for regularization for all by migrants and activists in Quebec, Migrante Quebec conducted a survey for Filipinos without permanent immigration status which includes temporary foreign workers, international students, asylum seekers and others. The partial results of this ongoing survey were discussed at the Pista sa Nayon event at Mackenzie park in Montreal on July 24, 2022.
Professions
According to the information submitted by 28 participants so far, the largest groups are caregivers and autobody repair workers followed by truck drivers.
Duration of stay in Canada
When Quebec's Bill 96 came into effect on June 1, 2022, to implement the use of French in public places, government services, businesses, and schools, it was severely criticized for creating barriers for immigrant, indigenous, and other groups.
Critics of the newly enforced law include migrant workers, many of whom have been working for their employers and living in Quebec for several years now. Migrant advocates argue that these track records have proven their ability to survive, find employment and be contributing members of society in a province that desperately needs workers to fill the labor shortage. (See link to related story below)
According to the survey, 28.6 percent have been living in Canada for 5 years or more, 25 percent between 3 to 4 years, 28.6 percent between 2 to 3 years, 10.7 percent between 1-2 years and only 7.1 percent for less than 1 year.
How many have families in Canada?
Only 17.9 percent so far reported having their spouse and children in Canada. A whopping 67.9 percent have no family here at all. Those who reported that they only have their spouses here came in at 10.7 percent, while 3.5 percent said that they only have relatives who are not immediate family members.
What would they do if they lost their job or legal status in Canada?
The majority making up 82.1 percent said that they would stay here and look for another job while 14.3 percent said that they would return to the Philippines and try to find employment there and 3.8 percent would try to find work in another country.
Is it easy to approach government agencies or the Philippine Embassy when you have a problem while working or residing in Canada?
The majority of participants at 39.3 percent said that it is "somewhat difficult" to ask for assistance, 32.1 percent said that it's "not difficult", while 25 percent said it is "difficult", and 3.6 percent described the process as "very difficult".
In your opinion, how helpful are the Philippine government agencies (like POLO) if you need some assistance with a situation related to work, loss of status, or if you need to return to the Philippines because you can no longer stay here?
The majority at 38.9 percent rated the government agencies as "somewhat helpful", followed by 28.9 percent who said they are "helpful", 18 percent said that they are "not very helpful" while 14.4 percent said that they are "not helpful at all".
The truth about the conditions faced by OFWs in Canada
Many are providing valuable services to the Canadian community and have been working here for long periods of time on a temporary status. The economy, job loss, low wages, lack of safety and a stable future for their families, political and financial government issues are some of the factors that make returning to the Philippines a difficult option. They are paying lots of taxes and debts but there is a lack of government protection and service.
Migrante Quebec is continuing to gather more data for this ongoing survey as they receive more responses
——————————
SEE RELATED STORIES
Quebec's Bill 96: Language law creates barriers to immigrant, indigenous, other groups
https://philippinereporter.com/index.php/2022/07/22/quebec-s-bill-96-language-law-creates-barriers-to-immigrant-indigenous-other-groups/
Quebec migrant workers rally for regularization for all
https://philippinereporter.com/index.php/2022/07/22/quebec-migrant-workers-rally-for-regularization-for-all/