Credentialing barriers discussed in PH embassy meet with Pinoy nurses
Credentialing barriers discussed in PH embassy meet with Pinoy nurses
By Michelle Chermaine Ramos
LJI Reporter
The Philippine Reporter
The Philippine Embassy held a stakeholders' meeting in cooperation with the Filipino Nurses Association of Quebec at the Ramada Plaza by Wyndham Hotel in Montreal on August 14, 2022.
Its purpose was to advance the interests of Filipino nurses in Quebec, specifically to address the hurdles that Filipino Internationally Educated Nurses (IENS) face in getting their credentials recognized in Canada.
The passing of Quebec's Bill 96 language law on June 1, 2022, has created an additional barrier to foreign-trained healthcare workers seeking to practice their professions in Quebec's already dire labor shortage.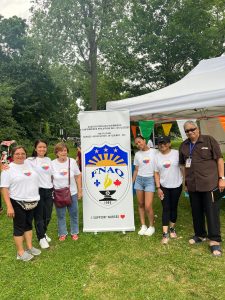 The Philippine Reporter: What were some of the concerns discussed at the meeting?
Vice Consul Gomez: The Philippine Embassy reached out to the Filipino IENs in Quebec directly in line with the Credentials Recognition in Canada (CRC) Project of the Philippine Posts in Canada (PPC). The CRC was launched on March 2022 to effectively coordinate all efforts to promote the credentialing of Filipino IENs in Canada. The initial stakeholders' meeting was in cooperation with the Filipino Nurses Association of Quebec (FNAQ).
The main issue is the amount of time and the cost needed to complete the entire credentialing process. Filipino IENs need to support their families while waiting to be given license to practice in Quebec.
Another issue is the lack of information on the credentialing process.
The PPC is composed of the Philippine Embassy in Ottawa, and the Philippine Consulates General in Vancouver, Calgary and Toronto.
TPR: Is this for Filipino nurses already in Quebec or do plans include Filipino nurses in the Philippines looking to move to Quebec?
VCG: The main focus of the initial meeting are the Filipino IENs already in Quebec but are unable to practice their professions. Steps to be taken to assist Filipino IENs who will arrive in Quebec were also discussed.
TPR: What solutions have been discussed? What steps is the embassy taking to address these concerns?
VCG: The PPC has been coordinating with the Provincial/Territorial Governments and the Colleges of Nurses in Canada in streamlining the evaluation process for Filipino IENs.
The PPC have also been coordinating with the Philippine Commission on Higher Education (CHED) Technical Panel on Nursing to provide Colleges of Nurses in Canada with the Nursing Curriculum of leading Colleges and Universities in the Philippines to streamline the evaluation process. Instead of evaluating the credentials of each Filipino IEN if it is comparable to the standards in of each Canadian Process, we are proposing the evaluation of the Philippine College/University.
In cooperation with FNAQ, welcome kits and reception teams can be organized to assist Filipino IENs in the credentialing process.
In two separate breakout groups we created, short-term and long-term approaches were identified and will further be validated prior to their implementation.
SEE RELATED STORIES:
Healthcare worker shortage: Predicted but not prevented? What to do?
https://philippinereporter.com/index.php/2022/08/12/healthcare-worker-shortage-predicted-but-not-prevented-what-to-do/
Quebec's Bill 96: Language law creates barriers to immigrant, indigenous, other groups
https://philippinereporter.com/index.php/2022/07/22/quebec-s-bill-96-language-law-creates-barriers-to-immigrant-indigenous-other-groups/
Nurses say Supervised Practice Program is 'a good move'
https://philippinereporter.com/index.php/2022/04/22/nurses-say-supervised-practice-program-is-a-good-move/